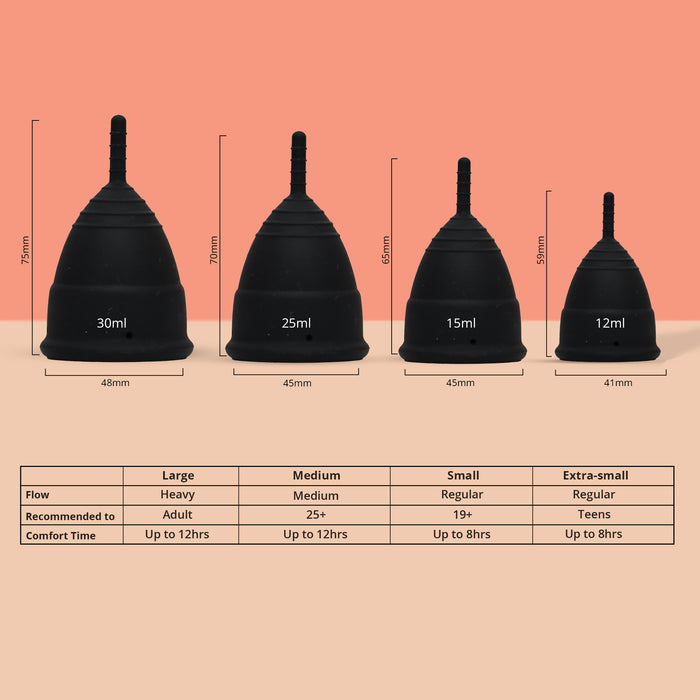 bbold Menstrual Cups For Women
Out of Stock
Original price
Rs. 499.00
Original price
Rs. 499.00
-
Original price
Rs. 499.00
Original price
Rs. 499.00
(Inclusive of all taxes)
Estimated Shipping Widget will be displayed here! (with custom color)
Teens? Adults? New Mothers?
Don't worry about your skin rashes or frequent pad changes anymore.
bbold caters to women's living while addressing their daily concerns. Stay Stain Free & Stress Free! We devised a one-stop solution to provide you with comfort on your tough days. Say NO to RASH & TRASH.
bbold is here with a menstrual hygiene product to help relieve every woman's period discomfort. The cup is inserted into the vagina during your period and collects blood discharge from the vagina rather than absorbing blood, unlike tampons and pads.
For people who are looking for a safer alternative to themselves and the planet, bbold Menstrual Cup is here for you.
Our menstrual cup is made of 100% soft silicone with rounded edges and no sharp points backed by FDA Approved.
It has a larger and more flexible rib that ensures a comfortable fit which avoids fluid leakage even during your physical activities like traveling or sleeping.
Note - We do premium packaging to our product so that its properties would last long & benefical to applicant.
Pack Order Details :
M.R.P of 1 Menstrual Cup = 499 INR
The Box contains
bbold Menstrual Cup - safely & properly packed.
Cup Pouch for holding.
Leaflet Manual with information.
Menstrual Cup available in
Menstrual Cup size are -
Extra Small
Small
Medium
Large
Say goodbye to discomfort and environmental concerns with bbold Menstrual Cup!
Highlights
Our menstrual cup offers a revolutionary approach to menstrual hygiene by collecting blood discharge instead of absorbing it like tampons and pads.
Made from 100% soft silicone, our menstrual cup is a safe and eco-friendly alternative for both you and the planet.
Rest assured that our product is backed by FDA approval, ensuring its safety and quality.
The cup is designed with rounded edges and no sharp points, providing a comfortable fit for users.
Our menstrual cup features a larger and more flexible rib that effectively prevents fluid leakage, even during physical activities such as traveling or sleeping.
Our bbold menstrual cup is:
Non-Toxic
Non-sticky
Eco-friendly
Easy to clean
Environment protective
Soft and gentle
10 years of shelf life
Components
Material - 100% Medical Grade Silicon - Cup is made from a high-quality, safe, and durable material that is suitable, ensuring user safety and comfort.
The Box contains
bbold Menstrual Cup - properly packed & covered.
Cup Pouch
Leaflet Manual with information.
Menstrual Cup available in
Menstrual Cup size are -
Extra Small
Small
Medium
Large
Benefits
A menstrual cup is easy to use and economical. It will be the best partner in your period journey. Check out its benefits below:
Reusable
Eco Friendly
Up to 10 Hrs protection (15/ 7.5 ml) flow rates.
The menstrual cup collects blood instead of absorbing it, so you don't run the risk of toxic shock syndrome (TSS).
Longer wear time
No stress of leakage
Rash & Stain free
Cruelty Free
Non - Toxic
How to Use
Wash your hands with handwash.
Fold the cup to insert.
Insert it inside your vagina & gently move it up until it opens.
Ensure the cup is open by touching the base of the cup.
Go to your day with no worries.
Pull the stem of the cup slowly to remove it.
Wash the cup with water for next use.
How to remove the cup
Here are the steps to remove your menstrual cup:-
Initially, do not skip washing your hands before you insert them into your vagina.
Get into a comfortable position, which might be squatting or sitting on the toilet.
Insert your thumb and index finger until you can feel the base of the menstrual cup.
Gently pull the stem to reach the base.
As you reach the base, pinch it to break the vacuum seal.
Slowly pull down until the cup comes out.
To make the removal process easy, continue pinching the base to avoid any spills.
Caution / Warnings
Do not forget to wash your hands thoroughly before and after the use of the Menstrual Cup.
bbold menstrual cup is a reusable cup. Therefore, after removing the cup, empty it.
Rinse the cup with warm water, wash thoroughly with fragrance-free soap and make sure the holes are cleaned.
Ensure the cup is open by touching the base of the cup.
Boil the cup for a while at the end of the period.
Store it in a breathable bag or pouch that allows moisture to evaporate.
Note : This product isn't intended to diagnose, prevent, cure, or treat any ailment or disease.
How to Choose the Cup
Menstrual cups can be used by women of all ages, regardless of their sexual activity.
A smaller menstrual cup is generally recommended for women younger than 30 who have not given birth vaginally.
If you are over 30 years old, have given birth vaginally, or have a heavier period, you should consider larger sizes.
However, if you're unsure, please take the quiz to know your perfect cup.
Note : People who are allergic to silicone or rubber material may experience vaginal irritation.
Type of Folds
Follow these two-step methods to insert the Menstrual cup easily and for effective use.
Push the sides of the Menstrual cup together to flatten the cup.
Fold the cup in lengthwise to create a 'C' shape.
This fold is the most well-known, but it may still be too wide to insert for some. If so, try these additional folds given below.
Use your pointer finger to press down on the rim, collapsing the cup.
Pinch firmly to hold it into place.
This is an easy and effective fold for people (beginners) who find the insertion difficult as it narrows the insertion point.
If you are still struggling to insert the Menstrual cup you can try this fold to easily insert the menstrual cup.
Squeeze the sides together to flatten the cup.
Fold the top right corner down towards the stem to form the number 7.
This fold also has a smaller insertion point and releases easier than any of the other folds once it is inside.
Specifications
Imported & Marketed by :  Azista Industries Pvt. Ltd
Manufacturer Address : 4th Floor, Melange Towers, Patrika Nagar, Madhapur, Hyderabad - 500081
Country of Origin : India
Shelf Life : 10 Years