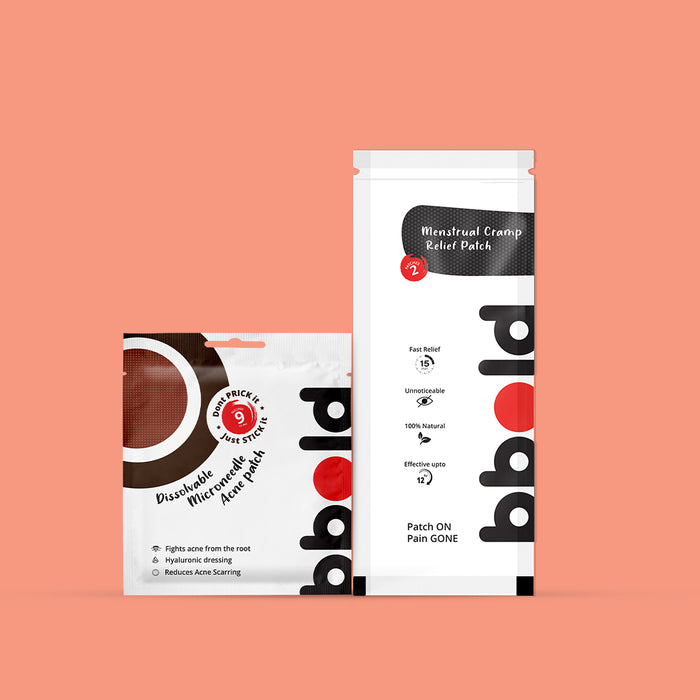 bbold combo - 2 Peice of Cramp Patch and dissolvable microneedle acne patch
Out of Stock
Original price
Rs. 689.00
Original price
Rs. 689.00
-
Original price
Rs. 689.00
Original price
Rs. 689.00
(Inclusive of all taxes)
Estimated Shipping Widget will be displayed here! (with custom color)
This combination of Pack of 2 contains: 
bbold menstrual cramp relief patches, three per package
One pack of bbold dissolvable microneedle acne patch
Our product combo guarantees:
Instant and long-lasting relief from period cramps
Zero side effects
Skin hydration
Rapid action for acne marks, inflammation
Prevents dark spots and acne scars
bbold menstrual cramp relief patch:
The bbold Menstrual Pain relief Patch is intended to provide both rapid and long-lasting relief from cramps. The patch provides relief to the legs, back, and abdomen.
It relieves cramps for up to 12 hours by suppressing uterine contractions.
The patch is thin and easy to apply, with an adhesive that adheres firmly to the body while remaining unnoticeable. It leaves no strains or marks on your clothes.
bbold acne patch:
The bbold patch combines conventional and modern methods and is created using natural components like Hyaluronic acid, Salicylic acid, gotu kola extract and totarol which soothes, hydrates, treats and rejuvenates the damaged skin.
The patch infiltrates the pimple area and promotes root-level healing (under the skin).
The patch is soft, non-drying, and suitable for all skin types. The healing process takes eight hours.
Specification
Manufacturer Name and Address :
bbold Menstrual Cramp Relief Patch : Azista Industries Pvt. Ltd, AIIDC Industrial Growth Center, changsari, Niz Sindurighopa, Sila Sindurighopa, Kamrup, Assam.
bbold Dissolvable Microneedle Acne Patch : Imported & Marketed by: Azista Industries Pvt. Ltd, 4th Floor, Melange Towers, Patrika Nagar, Madhapur, Hyderabad - 500081
Country of Origin : India
Shelf Life :
bbold Menstrual Cramp Relief Patch : 36 Months
bbold Dissolvable Microneedle Acne Patch : 24 Months