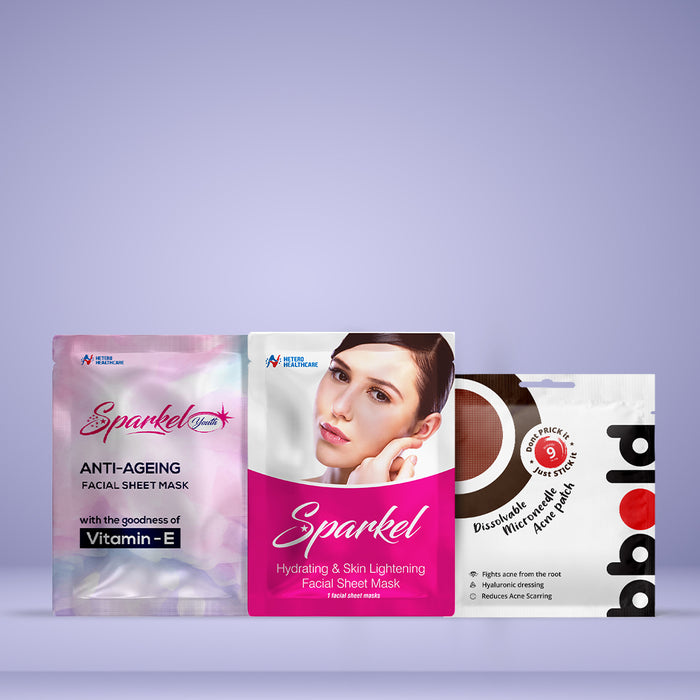 Sparkel bbold 2 Combo - Sinlge Pack of Sparkel hydrate , Youth and bbold Acne Patch Pack of 1
Out of Stock
Original price
Rs. 698.00
Original price
Rs. 698.00
-
Original price
Rs. 698.00
Original price
Rs. 698.00
(Inclusive of all taxes)
Estimated Shipping Widget will be displayed here! (with custom color)
This combination of Pack of 3 contains: 
One pack of Sparkel hydrating – skin-lightening face sheet mask
One pack of Sparkel youth – anti-aging face sheet mask
One pack of bbold dissolvable microneedle acne patch
Our product combo guarantees:
Soft, healthy, hydrated, and youthful skin
UV protection
Improved skin elasticity & hydration
Rapid action for acne marks, inflammation
Prevents dark spots and acne scars
Sparkel Hydrating face sheet mask:
The ready-to-use facial sheet mask is readily available across the country, patient-friendly, convenient, efficient, and cost-effective.
The face masks are infused with a serum to revitalize, hydrate, and nourish dehydrated, dry, and rough skin.
Sparkel youth face sheet mask:
Sparkel Youth face sheet mask revitalises your skin by moisturising it as well as preserving its radiance.
It protects the skin from harmful UV radiation and improves the skin's elasticity.
bbold acne patch:
bbold acne patch promotes deep wound healing and heals deeper-rooted or cystic acne through its acne-fighting chemicals.
The bbold patch contains tiny needles that treat acne at the source (from under the skin).
The patch infiltrates the pimple area and promotes root-level healing (under the skin).
Specification
Manufacturer Name and Address :
Sparkel (Hydrate, Youth ) : Azista Industries Pvt. Ltd, D.No. 12-6-21/1/1, 1st floor, Kukatpally, "Y" junction, Moosapet, Balanagar, Medchalmalkajgiri, Hyderabad.
bbold Dissolvable Microneedle Acne Patch : Imported & Marketed by: Azista Industries Pvt. Ltd, 4th Floor, Melange Towers, Patrika Nagar, Madhapur, Hyderabad - 500081
Country of Origin: India
Shelf Life :
Sparkel (Hydrate, Youth ) : 18 Months
bbold Dissolvable Microneedle Acne Patch : 24 Months