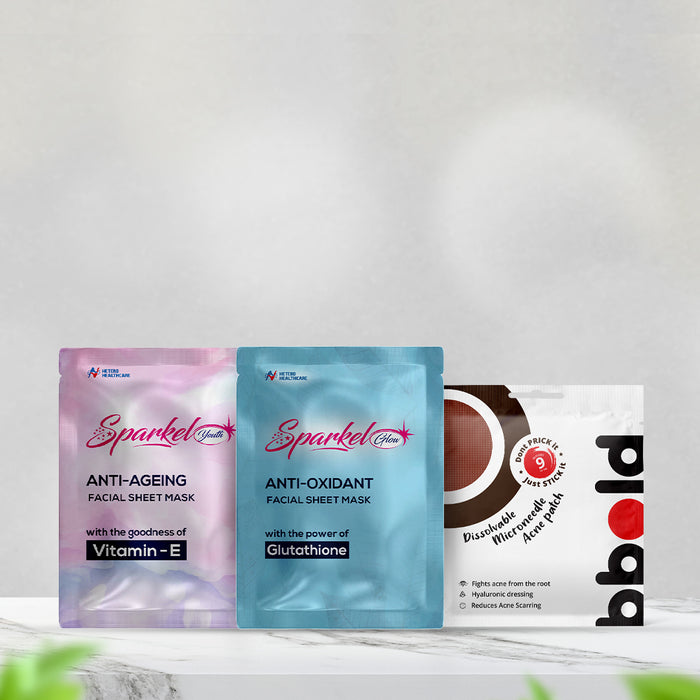 3 Combo - Sparkel (Single Pack of Youth , Glow ) and bold Acne Patch Pack of 1
Out of Stock
Original price
Rs. 749.00
Original price
Rs. 749.00
-
Original price
Rs. 749.00
Original price
Rs. 749.00
(Inclusive of all taxes)
Estimated Shipping Widget will be displayed here! (with custom color)
This combination of Pack of 3 contains: 
One pack of Sparkel youth – anti-ageing face sheet mask
One pack of Sparkel glow – antioxidant face sheet mask
One pack of bbold dissolvable microneedle acne patch
Our product combo guarantees:
Healthy, moisturized, youthful & glowing skin
UV protection
Improved skin elasticity
Rapid action for acne marks, inflammation
Prevents dark spots and acne scars
Sparkel youth face sheet mask:
Sparkel Youth face sheet mask revitalises your skin by moisturising it as well as preserving its radiance.
It is easily transportable and can be used at any time or any place.
Sparkel glow face sheet mask:
Sparkel glow sheet mask helps to improve your skin which is damaged due to environmental pollution.
It helps in the reduction of blemishes, and pores. Wrinkles and fine lines also aid in the elimination of blackheads.
bbold acne patch:
bbold acne patch promotes deep wound healing and heals deeper-rooted or cystic acne through its acne-fighting chemicals.
It is clear, matte, and has extremely thin edges with microneedles.
Specification
Manufacturer Name and Address :
Sparkel Youth - Anti-Aging Face Sheet Mask, Sparkel Glow - Anti Oxidant Face Sheet Mask : Azista Industries Pvt. Ltd, D.No. 12-6-21/1/1, 1st floor, Kukatpally, "Y" junction, Moosapet, Balanagar, Medchalmalkajgiri, Hyderabad.
bbold Dissolvable Microneedle Acne Patch : Imported & Marketed by: Azista Industries Pvt. Ltd, 4th Floor, Melange Towers, Patrika Nagar, Madhapur, Hyderabad - 500081
Country of Origin : India
Shelf Life :
Sparkel Youth - Anti-Aging Face Sheet Mask : 18 Months
Sparkel Glow - Anti Oxidant Face Sheet Mask : 18 Months
bbold Dissolvable Microneedle Acne Patch : 24 Months