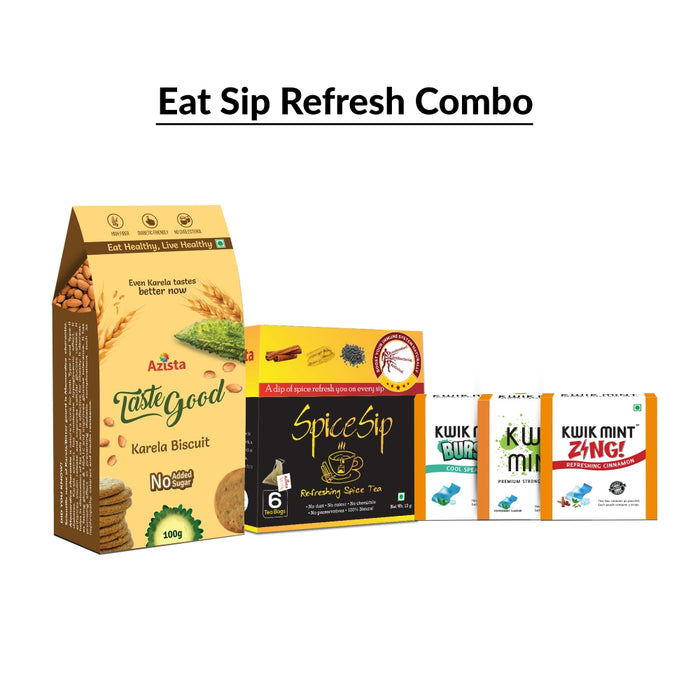 Mega Eat Sip Refresh Combo Pack - Tastegood, Spicesip and Kwikmints
Save

25

%
Save

25

%
Original price
Rs. 1,196.00
Original price
Rs. 1,196.00
-
Original price
Rs. 1,196.00
Original price
Rs. 1,196.00
(Inclusive of all taxes)
Estimated Shipping Widget will be displayed here! (with custom color)
With our Combo of Taste good Karela Biscuits, Spice Sip Immunity Tea and Kwik Mint Mouth Freshener strips you can
Maintain your Blood Sugar levels effectively keeping your heart healthy.
Energize and Refresh your Body and Mind
Flush the toxins and builds Immunity against diseases.
Makes it easy to have an active and healthy life.
Eat Sip Refresh Combo Includes:
Taste Good Karela Biscuits – 8 pack * 10 biscuits = 80 biscuits
Spice Sip Immunity Tea – 4 pack * 6 tea bags = 24 tea bags
Kwik Mint Premium Strong Mint Strips – 1 box* 44 pouches (2 strips each) = 88 strips
Kwik Mint Burst Mouth Freshener – 1 box* 40 pouches (3 strips each) = 120 strips
Kwik Mint Zing Mouth Freshener – 1 box* 40 pouches (3 strips each) = 120 strips
Know more about the products:
Taste Good Karela Biscuits
Taste Good Karela Biscuits are clinically proven they are Diabetic Friendly biscuits and balance blood sugar levels.
Our products are 100% healthy with Zero Cholesterol & Zero Transfat.
These are the best biscuits to maintain healthy blood sugar levels in everybody in the targeted range with Medium Glycaemic Index, Low Glycaemic Load, and serve as the best snack for diabetic people.
We are proud to say they are made in India, as these are the best biscuits for diabetics, and they are the perfect mid-meal healthy snack suitable for all age groups
Regular consumption of Taste Good Karela Biscuits helps you maintain blood sugar
Taste Good are healthy biscuits that aid in weight management & decrease bad cholesterol.
It also serves as a healthy On-the-go snack for everybody including diabetic patients.
Spice Sip Immunity Tea
Spice sip is identified as a blend of tradition with the convenience of technology.
It acts as the best tea to boost the immune system.
It signifies the glory of our tradition bringing back our culture.
The product is caffeine-free, Dust-free, and Chemical-free.
It is an anti-fungal, and anti-bacterial tea that keeps you strong and healthy from inside.
A cup of spice sip tea every day is healthy for the immune system as it has a powerful anti-inflammatory effect on your body.
These immunity-boosting tea bags purifies your blood and endorse gut health.
It has a naturally sweet flavor of Cinnamon that makes the tea taste delicious.
Does not fluctuate the sugar levels so it can be used by diabetic people.
The product keeps you away from infections like cold, flu, etc.
It is a perfect blend of taste, health, and tradition.
Kwik Mint Mouth Freshener Strips
Breath fresh and healthy with our Kwik Mint Mouth Freshener Strips. These are instant breath fresheners, sugar-free, mouth freshener strips, and ideal for diabetic people and people who count on their sugars. Enjoy the oral care mouth freshener strips in cool mint, cinnamon, and spearmint flavor breath freshener strips and nourish your oral health.
Specification
Manufacturer : Azista Industries Pvt. Ltd.
Tastegood : Biking Food Products Pvt. Ltd. 1-8-581, RTC 'X' Road, Industrial Area, Hyderabad-500020.
Spicesip : D.No. 12-6-21/1/1, 1st floor, Kukatpally, "Y" junction, Moosapet, Balanagar, Medchalmalkajgiri, Hyderabad.
Kwikmint : RS.56B/1, Hubli Karwar Road, Chalamatti,Dharwad Dist, Karnatak-581204.
Country of Origin : India.
Shelf Life :
Tastegood : 9 Months
Spicesip : 18 Months
Kwikmint : 18 Months.