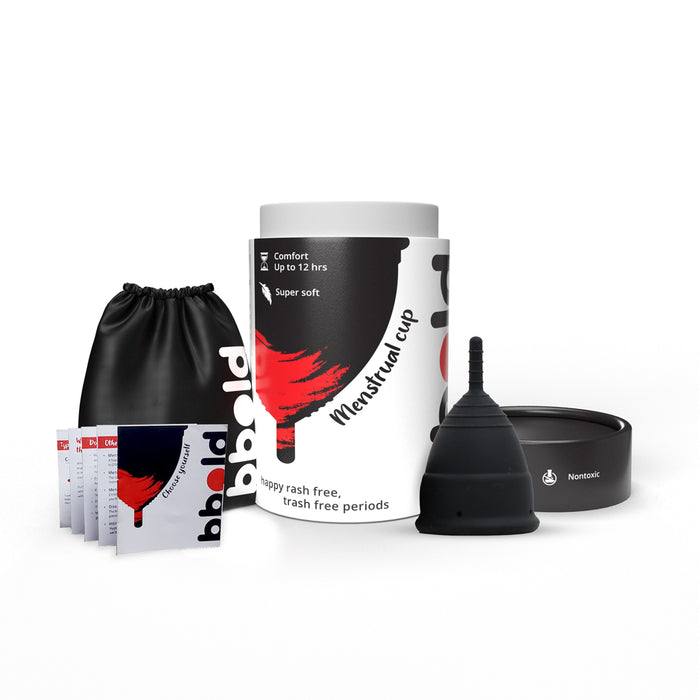 bbold Menstrual Cup | Embrace Comfort Choose Eco-Friendly | pack of 1
Save

80

%
Save

80

%
Original price
Rs. 499.00
Original price
Rs. 499.00
-
Original price
Rs. 499.00
Original price
Rs. 499.00
(Inclusive of all taxes)
Estimated Shipping Widget will be displayed here! (with custom color)
Your Menstrual Revolution Begins Now!
Gone are the days of discomfort and frequent pad changes. Here comes the bbold Menstrual Cup - a revolutionary menstrual hygiene product designed with every woman in mind.
From teens to adults, from beginners to seasoned users, this is the period cup you've been waiting for!
Order Details :
Net Quantity: Pack of 1 – bbold Menstrual Cup
M.R.P (per unit): 499 INR
Net Weight (per unit): 15g
Step into the next era of menstrual care with bbold.
Because every period should be a comfortable and eco-friendly experience.
Order Now
Highlights
Why Go for bbold Menstrual Cup?
Eco-Friendly & Economical: Ditch the disposables. This reusable menstrual cup will be your eco-conscious partner for up to a decade!
Superior Comfort & Safety: FDA-approved, made of 100% soft silicone, ensuring a soft and safe experience.
Stay Active, Stay Leak-Free: Whether it's yoga, swimming, or just a cozy sleep, its unique design ensures zero leaks.
Premium Packaging: We prioritize not just quality but also presentation to make sure you get the best.
How to Use
How to use:
Insertion: Choose your fold ('C' fold, Punch Down, or the 7-Fold). Insert and ensure it's open.
Wear & Relax: Engage in daily activities without worry.
Removal: Pinch, pull, empty, rinse, and reuse!
Care Tips:
Always wash your hands.
After each cycle, boil your cup for optimal hygiene.
Store in the provided pouch.
Ingredients
Inside Your Premium Box:
bbold Menstrual Cup: Safely packed to ensure purity. (100% Medical Grade Silicone)
Stylish Cup Pouch: For discreet storage on the go.
Comprehensive Leaflet Manual: To guide your journey, step by step.
Available in Sleek Shades:
🖤 Black
⚪ White
Tailored for Every Woman:
Sizes: Extra Small | Small | Medium | Large
Whether you're a teenager or have had a vaginal birth, we have the best menstrual cup size tailored for you.
Benefits
Why Everyone is Switching to bbold Menstrual Cup:
No More Rashes or Stains: Bid farewell to discomfort.
No More Rashes or Stains: Bid farewell to discomfort.
Eco-Friendly: Reduce your carbon footprint one cycle at a time.
Long Wear Time: Up to 10 hours of protection.
Risk-Free: Our menstrual cup collects blood, reducing the risk of TSS.
Specifications
Manufacturer : Azista Industries Pvt. Ltd.
Manufacturer Address : 4th Floor, Melange Towers, Patrika Nagar, Madhapur, Hyderabad - 500081.
Country of Origin : India.
Shelf Life : 10 Years.