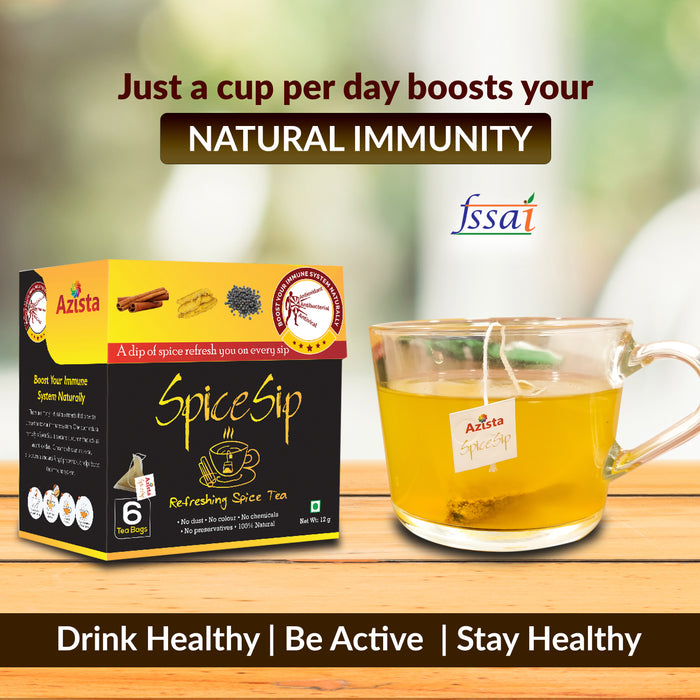 Spice Sip Immunity Tea | Pack of 4
Save

45

%
Save

45

%
Original price
Rs. 180.00
Original price
Rs. 180.00
-
Original price
Rs. 180.00
Original price
Rs. 180.00
(Inclusive of all taxes)
Estimated Shipping Widget will be displayed here! (with custom color)
Spice Sip: Your Immunity's Cup of Strength!
Natural Wellness, One Sip at a Time Dive deep into the realm of natural wellness with Spice Sip, your daily dose of traditional wisdom paired with the best of modern technology. This isn't just tea; it's a symphony of spices that elevates your health.
Order Details :
Net Quantity: Pack of 4 – Spice Sip
M.R.P (per unit): 45 INR
Net Weight (per unit): 40g.
Spice Up Your Immune System with Spice Sip!
Elevate your tea ritual. Let every sip be a pledge to better health and a stronger immune system.
Reconnect with tradition, one cup at a time.
Order Now
Highlights
Why Choose Spice Sip?
Immunity Boosting Health tea bags: Steeped in tradition and bursting with health benefits. Caffeine-Free Comfort: A no-caffeine tea experience, gives you pure, uninterrupted wellness.
Natural Purity: Delight in every cup knowing you're sipping on Chemical-free tea bags.
Unbox Wellness: 
Rich in Flavour: A perfect blend of taste, health, and tradition.
Premium Packaging: Ensuring every tea bag retains its freshness for that elevated taste.
Affordable Wellness: Starting at just 45 INR for 6 invigorating tea bags.
How to Use
Easy Brew Ritual:
Pour hot water into your favourite cup.
Unveil the magic with Spice Sip dips.
Steep, savour, and strengthen your immune system.
Precautions:
To be taken with caution by pregnant women and breastfeeding mothers.
Ingredients
The Spice Sip Magic:
Turmeric Tea Bags: Immunity's golden charm, boosting immune function.
Black Pepper Tea Bags: Uplifts with anti-inflammatory properties and better blood sugar control.
Cinnamon Tea Bags: A hug for your heart, promoting cardiovascular health.
Specifications
Manufacturer : Azista Industries Pvt. Ltd.
Manufacturer Address : D.No. 12-6-21/1/1, 1st floor, Kukatpally, "Y" junction, Moosapet, Balanagar, Medchalmalkajgiri, Hyderabad.
Country of Origin : India
Shelf Life : 18 Months