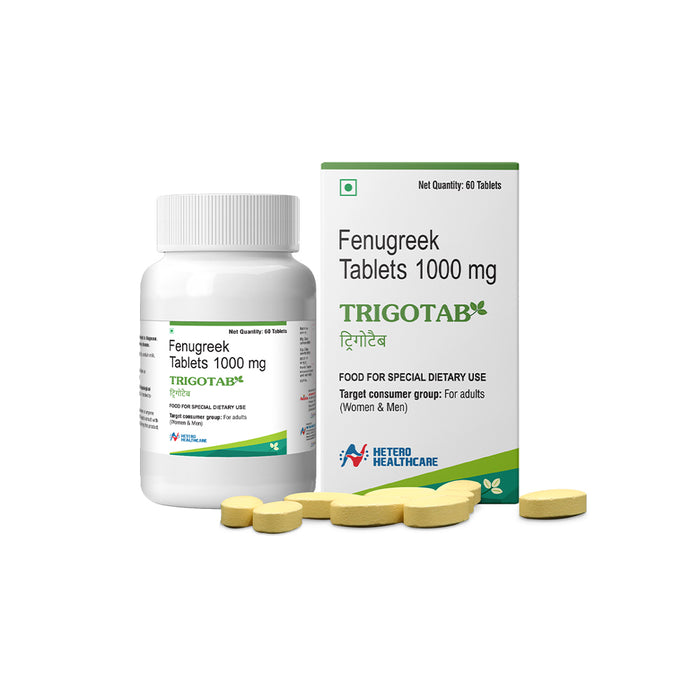 Trigotab Fenugreek Seed Extract Powder Tablets for Diabetes
Save

10

%
Save

10

%
Original price
Rs. 280.00
Original price
Rs. 280.00
-
Original price
Rs. 280.00
Original price
Rs. 280.00
(Inclusive of all taxes)
Estimated Shipping Widget will be displayed here! (with custom color)
Trigotab is an alternative for an isolated extract of fenugreek that has Trigoneline as its active ingredient. It is a clinically proven product and an anti-hyperglycemic agent that improves insulin secretions in the body and is suitable for all ages.
It is an amalgamation of old tradition and modern technology that caters benefits of fenugreek in a tablet form. It is considered safe to use the tablet as an adjuvant by diabetic.
Note - We do premium packaging to our product so that its properties would last long & benefical to applicant.
Pack Order Details :
M.R.P of 1 TrigoTab = 280 INR
1 pack = 60 Tablets.
Azista Industries Pvt Ltd is the manufacturer and distributor of the product globally. We manufacture it through a specific process as per the standards as quality is our priority and pack it hygienically.
Highlights
Trigotab is a fenugreek extract with an enhanced active ingredient called Trigonelline. It is made with patented BAAS technology.
It impacts our sugar levels and reduces the insulin levels in the blood.
It is safe to be used as an adjuvant in diabetic-friendly patients on any medicine.
Regular consumption reduces the pill burden.
Ingredients
An Anti-Hyperglycemic Agent – Improve insulin secretions.
Fenugreek Seed Powder - Rich in fiber and antioxidants.
Benefits
Trigotab is a natural supplement and is not an antidiabetic drug.
It helps people Pre-diabetes aswell to control blood sugars.
Minimizes our glucose fluctuations.
Regular consumption reduces the pill burden.
It betters our Glycaemic level and Minimizes our glucose fluctuations.
Caution / Warnings
Pregnant or lactating women or anyone with medical condition should consult with Physician before consume.
How to Use
2 - 3 tablets before meals per day.
Caution / Warnings
Who should use: diabetic-friendly patients on any medicine.
Specifications
Manufacturer: Azista Industries Pvt. Ltd
Manufacturer Address : AIIDC Industrial Growth Center, changsari, Niz Sindurighopa, Sila Sindurighopa, Kamrup, Assam.
Country of Origin : India
Shelf Life : 24 Months