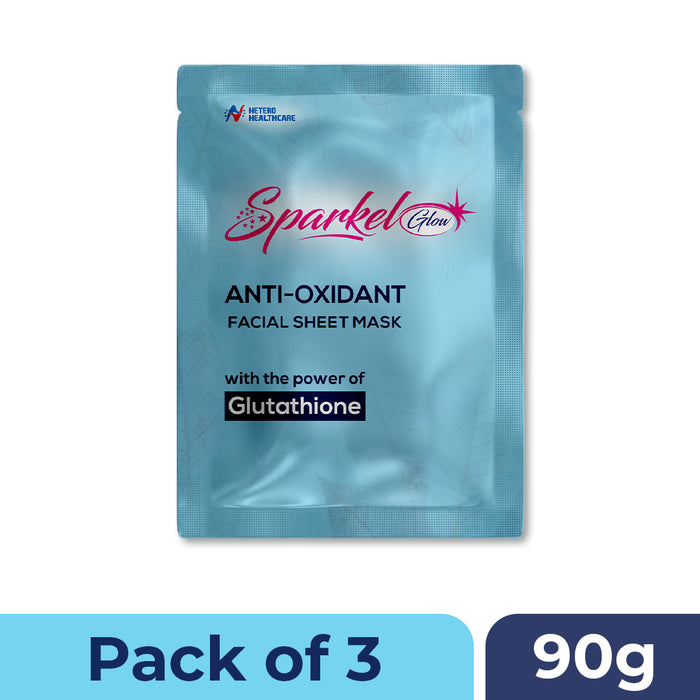 Sparkel Glow - Anti Oxidant Face Sheet Mask
Save up to

30

%
Save

15

%
Original price
Rs. 450.00
Original price
Rs. 450.00
-
Original price
Rs. 1,800.00
Original price
Rs. 450.00
Rs. 383.00
-
Rs. 1,260.00
(Inclusive of all taxes)
Estimated Shipping Widget will be displayed here! (with custom color)
Drench Your Skin with Glutathione, Unveil Your Glow !!
Experience a revolutionary skincare solution - India's very 1s't sheet mask, proudly designed, developed, and manufactured in India for Indian skin types. Sparkel's GLOW exceptional Anti - Oxidant Facial Sheet Mask is enriched with the Glutathione, offering a range of remarkable benefits that eliminates impurities & decongest pores leaving skin feeling clear, fresh & renewed.
The Anti-Oxidant facial sheet mask brings back life into your skin by retaining the glow and hydrating the skin. It is portable and can be applied anywhere and anytime.
It is clinically certified, proven, and recommended by skin-care professionals. It is also recommended by medical experts to use after laser treatment to reduce post-laser burning and sunburn burning sensation and irritation.
Don't worry about the time! you can put the Sparkel GLOW facial sheet mask on your face and work in parallel. It does not disturb your routine. You can use it while doing yoga, meditation, exercise, sleeping, or any other regular activity.
The ready-to-use facial sheet mask is convenient, skin-friendly, effective, affordable, and available across the nation.
Note - We do premium packaging to lock the freshness that gives an elevated benefits to our customers skin.
Pack Order Details :
M.R.P of 1 Facial Sheet Mask = 150 INR
Pack of 3 = 3 Facial Sheet Masks
Pack of 5 = 5 Facial Sheet Masks
Pack of 8 = 8 Facial Sheet Masks
Pack of 12 = 12 Facial Sheet Masks
Azista Industries Pvt Ltd is the manufacturer and distributor of the product globally. We manufacture it through a specific process as per the standards as quality is our priority and pack it hygienically.
Highlights
Anti-oxidant Facial Sheet Mask that works on the dull & damaged skin in 20-30 minutes
Sparkel Glow helps to improve your skin due to environmental intoxication. Skin texture is smoothed and refined, inflammation and blemishes reduced, pores minimized, blackheads removed, wrinkles & fine lines removed, and the skin feels comforted & healthy.
SKIN TYPE: Safe to use for all skin types and is recommended by dermatologists.
SKIN CONDITIONS: Dull facial skin having blackheads, wrinkles, fine lines & acne.
FRAGRANCE: Orange.
Ingredients
Glutathione – Reduce the production of melanin & appearance of dark spots & hyperpigmentation.
Vitamin C – Hydration & Brighten the skin.
Fragrance – Orange
Benefits
Reduces pollution damage to the skin and prevents dull-looking skin.
Eliminate impurities & decongest pores leaving skin feeling clear, fresh & renewed.
Help the skin fight the negative effect of exposure to stress factors.
Protects from UV radiation.
Clears off the build of dead skin cells.
It is Paraben (Group of synthetic chemicals) free.
The mask does not irritate or have side effects as it is compatible with all skin types.
How to Use
Wash your face and dry it completely before you wear the mask.
Open the packet to unfold the mask.
Put the mask on your face for 20 to 30 minutes and tadaa!! You will be awestruck!
Go DRAB to FAB !!!
Frequent use of the mask will bag you soft, healthy, and glowing skin.
Your skin glows like sparkle with the Sparkel facial sheet mask.
Caution /Warnings
Avoid direct exposure to sunlight and store it in a cool place.
For external use only. Avoid contact with eyes. If in case contact with eyes, rinse with water immediately.
Specifications
Manufacturer: Azista Industries Pvt. Ltd
Manufacturer Address : Sy.no: 80-84, Melange Towers, 4th Floor, C-Wing, Patrika Nagar, Madhapur, Hyderabad, Telangana - 500 081.
Country of Origin : India
Shelf Life : 18 Months