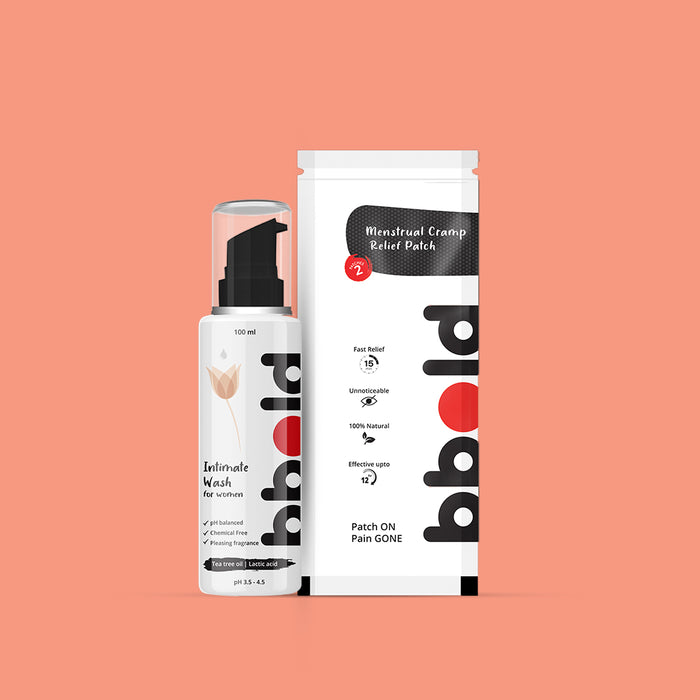 bbold combo - 2 Peice of Cramp Patch and Intimate Wash 100ML for Women
Out of Stock
Original price
Rs. 439.00
Original price
Rs. 439.00
-
Original price
Rs. 439.00
Original price
Rs. 439.00
(Inclusive of all taxes)
Estimated Shipping Widget will be displayed here! (with custom color)
This combination of Pack of 2 contains: 
bbold menstrual cramp relief patches, three per package
One pack of bbold Intimate wash for women
Our product combo guarantees:
Balanced pH level
Instant and long-lasting relief from period cramps
Prevention of vaginal bacterial infections
Zero side effects, Natural formulations
Reduced inflammation, itchiness, and dryness in intimate areas.
bbold menstrual cramp relief patch:
The bbold Menstrual Pain relief Patch is intended to provide both rapid and long-lasting relief from cramps. The patch provides relief to the legs, back, and abdomen.
The patch has no adverse effects and uses natural ingredients to treat your cramps. The cramp relief patch is worn on the abdomen to ease menstrual cramps.
It relieves cramps for up to 12 hours by suppressing uterine contractions.
The patch is thin and easy to apply, with an adhesive that adheres firmly to the body while remaining unnoticeable. It leaves no stains or marks on your clothes.
bbold Intimate wash:
Our intimate wash helps to keep the pH level of your vagina healthy and treats dryness, itching, and irritation of the intimate areas.
bbold Intimate Wash is a smooth, safe, and gentle cleansing solution for the vulva in your daily care routine.
It is free of chemicals, parabens, and alcohol, and has a natural fragrance.
It is made of natural ingredients such as tea tree oil, karanji seed oil and vitamin E to keep the Vagina moisturised and prevent bacterial infections.
This combo assists you in maintaining your intimate care and keeping it soft, fresh, and clean. Ladies! What are you waiting for? Get rid of your intimate problems with this unique combo.
Specification
Manufacturer Name and Address :
bbold Menstrual Cramp Relief Patch : Azista Industries Pvt. Ltd, AIIDC Industrial Growth Center, changsari, Niz Sindurighopa, Sila Sindurighopa, Kamrup, Assam.
bbold Intimate Wash for Women : Archeesh Labratories, Plot No. 16/A, IDA Phase IV, Jeedimetla, Hyderabad-500055
Country of Origin : India
Shelf Life :
bbold Menstrual Cramp Relief Patch : 36 Months
bbold Intimate Wash for Women : 24 Months