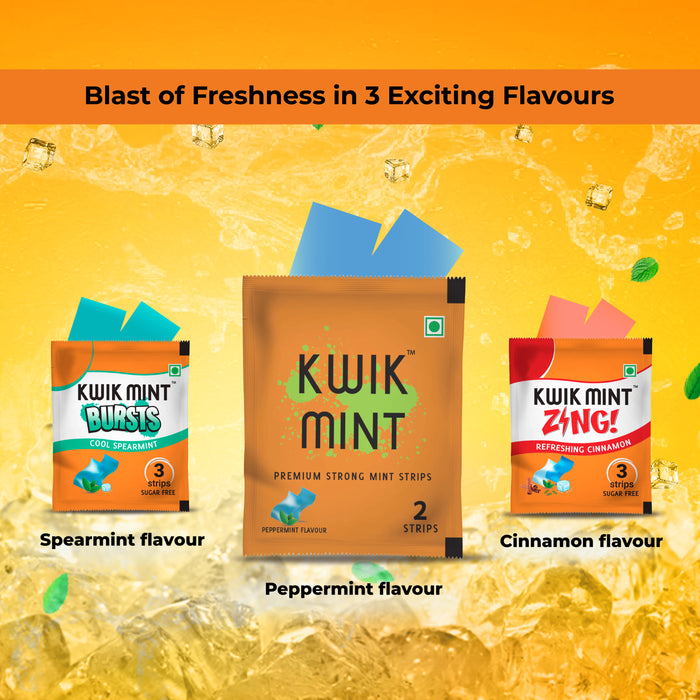 Kwik Mint Combo Pack ( Mouth Fresheners - Zing - Bursts) 3 Flavours in One Pack.
Out of Stock
Original price
Rs. 600.00
Original price
Rs. 600.00
-
Original price
Rs. 600.00
Original price
Rs. 600.00
(Inclusive of all taxes)
Estimated Shipping Widget will be displayed here! (with custom color)
A healthy mouth and fresh breath are essential aspects of self-esteem.
Discover our self-esteem-building products Kwik Mint Combo in various flavors with lingering fresh effects on the tongue, brain, and eyes. It is mint for bad breath.
The Kwik Mint is a sugar-free minty flavor, nutritious, and heals the congestion by shrinking the swollen membranes in the nose.
The Kwik Mint zing is a blast of Cinnamon, Fennel & Menthol. It instantly refreshes your breath and instils the lost confidence in you due to bad breath.
It is a soothing herb that improves digestion and aids the stomach from various maladies.
Kwik Mint Bursts is the breath freshener that is a blast of Spearmint, Menthol & Eucalyptus Oil.
Experience the newness of mint with this breath freshener. and own good oral hygiene and reap medicinal benefits.
Get a dashing smile and confident life with the Kwik Mint combo deal.
Specification
Manufacturer : Azista Industries Pvt. Ltd
Manufacturer Address : RS.56B/1, Hubli Karwar Road, Chalamatti,Dharwad Dist, Karnatak-581204
Country of Origin : India
Shelf Life : 18 Months