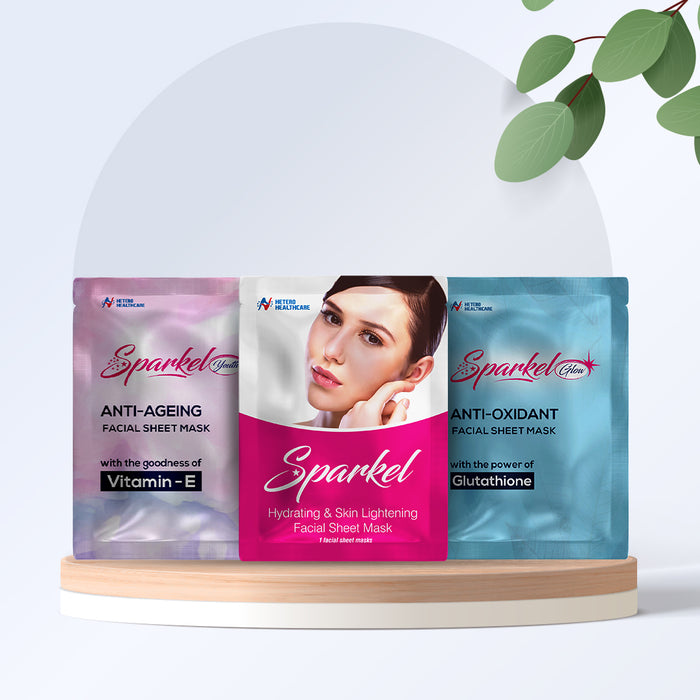 Sparkel Unisex Facial Sheet Masks Pack of 3 – Hydrating and Skin Lightening + Anti-Oxidant + Anti-Ageing
Save

100

%
Save

100

%
Original price
Rs. 399.00
Original price
Rs. 399.00
-
Original price
Rs. 399.00
Original price
Rs. 399.00
(Inclusive of all taxes)
Estimated Shipping Widget will be displayed here! (with custom color)
Blossom your skin with our Sparkling Combo Facial sheet masks.
It is 1st Indian made Cloth sheet mask that is clinically proven, made for all skin types, and compatible with the Indian climate. Use the combo anytime and anywhere.
Sparkel Hydrating & Skin Lightening:
SKIN CONDITIONS: It Soothes and provides a relaxing effect to your skin. Cleanses, lightens, and leaves skin glowing.
FRAGRANCE:Rose
Sparkel Anti-Ageing:
SKIN CONDITIONS: It treats Sunburn, and reduces Hyperpigmentation, acne-induced dryness, and aging skin.
FRAGRANCE:Mix fruit
Sparkel Anti-Oxidant:
SKIN CONDITIONS:Treats dull facial skin having blackheads, wrinkles, fine lines & acne.
FRAGRANCE:Orange
Key Ingredients
Sparkel Hydrating & Skin Lightening: Disodium EDTA, Aloe Barbadensis leaf extract, olive leaf extract, hydrolyzed wheat flour, Sorbic acid, Ceteryl Olivate, Sorbitan Olivate, Xylitylglucoside, Xylitol, Sodium Cocyl amino acid, Phenoxyethanol, Rose fragrance.
Sparkel Anti-Ageing: Dermonectin, Sepitonic M3, Sodium hyaluronate, humectant, Collagen peptide, Vitamin E, Retinoid, Ethylhexylglycerine, Emulsion mask base, Disodium EDTA, Xylitylglucoside & Xylitol, Sodium cocyl amino acids & Mix fruit fragrance.
Sparkel Anti-Oxidant:Marrubium Vulgare Extract, Glutathione, Vitamin C, Glycerine, Ethylhexylglycerine, Disodium EDTA, Zinc oxide, Sodium Acrylate/Sodium Acryloyldimethyl Taurate copolymer, Xylitylglucoside, Xylitol, Sodium cocyl amino acids & Orange fragrance.
Specifications
Sparkel Facial Sheet Mask is India-made, and a unisex mask developed and manufactured in favor of Indian climatic conditions.
Sparkel mask sheet is soaked in serum to rejuvenate and hydrate the dry, rough, dehydrated, and irritated skin.
SKIN TYPE: Safe to use for all skin types and is recommended by dermatologists. Sparkel face mask is safe and is recommended by skincare professionals post-procedures as well.
Manufacturer : Azista Industries Pvt. Ltd
Manufacturer Address : D.No. 12-6-21/1/1, 1st floor, Kukatpally, "Y" junction, Moosapet, Balanagar, Medchalmalkajgiri, Hyderabad.
Country of Origin : India
Shelf Life : 18 Months
Details
PRODUCT:  Cloth Sheet mask soaked in serum.
USAGE: Designed for one-time use only.
APPLICATION: Preferably once a day, can be used any time of the day.
SHELF LIFE: The beautifying mask is effective for 18 months from the date of manufacturing.
STORAGE: Avoid direct exposure to sunlight and store it in a cool place.
WARNING: For external use only. Avoid contact with eyes. In case of contact with eyes, wash with water immediately.
Directions to Use
Wash your face and dry it completely before you wear the mask.
Open the pouch to unfold the mask.
Put the mask on your face for 20 to 30 minutes.
Remove the mask and rinse your face with water, and tadaah!! You will be awestruck! Your skin feels soft and fresh, leaving a hydrated glow.
Frequent use of the mask will bag you soft, healthy, and glowing skin.