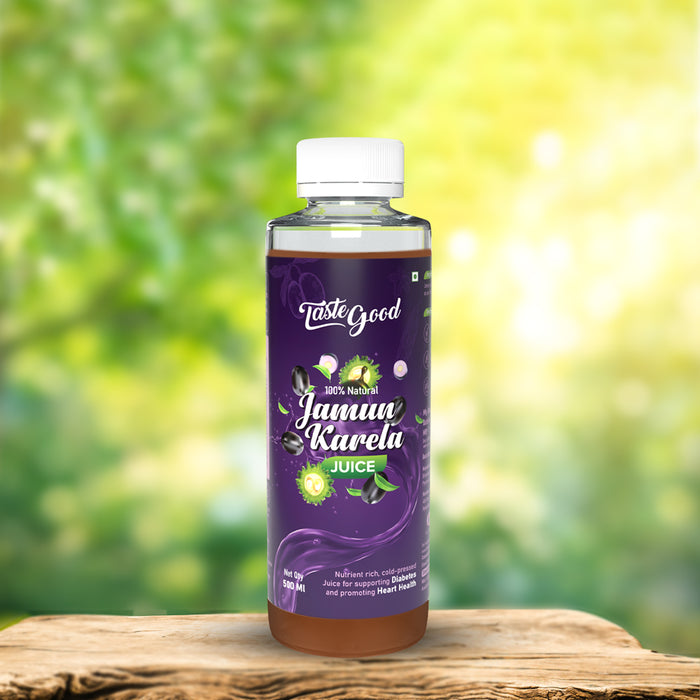 TasteGood Jamun Karela Juice | 500ml – pack of 1
Save

60

%
Save

60

%
Original price
Rs. 250.00
Original price
Rs. 250.00
-
Original price
Rs. 250.00
Original price
Rs. 250.00
(Inclusive of all taxes)
Estimated Shipping Widget will be displayed here! (with custom color)
Discover Your Morning Dose of Health with TasteGood Jamun Karela Juice!
Managing diabetes? Meet your new ally - TasteGood Jamun Karela Juice! This sugar-free juice blends Jamun (Black Plum) and Karela (Bitter Gourd) for natural blood sugar support.
Each sip is packed with essential nutrients, offering a delicious way to nourish your body and maintain balanced well-being. Elevate your daily routine with a refreshing choice that cares for your health from within – a true blend of wellness and taste.
Note - We do premium packaging to lock the freshness that gives an elevated taste to our customers.
Pack Order Details :
Net Qty: 1 pc
M.R.P (per unit): 250 INR
Net Weight (per unit): 500ml
TasteGood Jamun Karela Juice a Nutrient rich, cold-pressed juice for supporting Diabetes & promoting Heart health.
🛒 Order Your Diabetes Care Solution Now!
Unlock better health - sip by sip!
Highlights
Why Choose Us?
Blood Sugar Support : Regulate sugar levels naturally with Jamun and Karela's power.
Heart Health : Maintain cholesterol, while Jamun offers potassium support, promoting a healthy heart and cardiovascular system.
Digestive Health : Karela's fibre aids digestion, and Jamun reduces digestive disorders, offering relief from common gastrointestinal issues.
Antioxidant Defence : Our juice is packed with antioxidants to shield your body from oxidative stress and free radicals, promoting cellular health.
Weight Wellness : Karela's Low-Cal and high-fibre properties aid in your weight management goals.
Immune Strength : Boost your natural defences.
Ingredients
Jamun (Black Plum) Extract - Rich in antioxidants, Supports digestive health & Boosts immunity.
Karela (Bitter Gourd) Extract - Blood sugar regulation & Rich in vitamins and minerals.
Water - Relieves Fatigue Flushing of Toxins.
Citric Acid – Gets Rid of Dead Cells.
How to Use
Shake well before use.
Take 20ml - 30ml (2 tbsp) with water.
Consume 1-2 times daily on an empty stomach.
Refrigerate after opening, use within 45 days.
Don't eat for 30 minutes post-consumption. Do not eat anything for the next 30 mins.
Precautions:
Not for pregnant/nursing women or known allergens.
Consult a healthcare pro if you have medical conditions or medications.
It's a dietary supplement, not a treatment.
Keep away from kids.
Store in a cool, dry place.
Elevate your mornings, transform your health – one sip at a time!
Specifications
Manufacturer : Briovinegars.
Manufacturer Address : Briovinegars, Khasra No. 251 , Qasampur Pyarewala Raipurrani, Panchkula , Haryana, 134208.
Country of Origin : India
Shelf Life : 12 Months