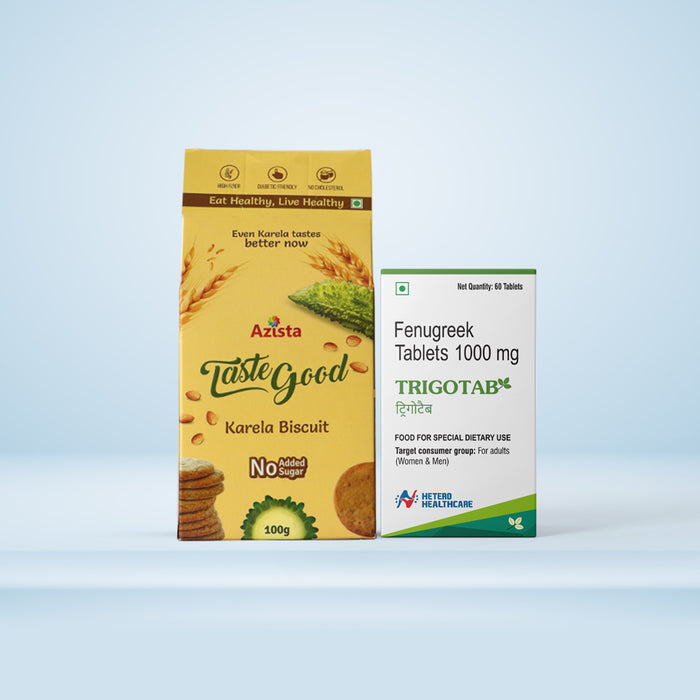 TG TrigoTab Combo - Tastegood Karela Biscuits Pack of 4 and Trigotab Pack of 1
Save

15

%
Save

15

%
Original price
Rs. 488.00
Original price
Rs. 488.00
-
Original price
Rs. 488.00
Original price
Rs. 488.00
(Inclusive of all taxes)
Estimated Shipping Widget will be displayed here! (with custom color)
TG TrigoTab Combo - Tastegood Karela Biscuits Pack of 4 and Trigotab Pack of 1.
Our product combo guarantees:

Balanced blood sugar levels
Enhanced insulin secretion
Controlled glucose fluctuations
Regulation of body weight
Tastegood Karela biscuits:
Clinical studies have shown that Taste Good Karela Biscuits are diabetic-friendly and maintain healthy blood sugar levels.
Our goods are 100% nutritious and contain no trans-fat or cholesterol. The goodness of 20 gm of dehydrated karela, which is contained in each biscuit, amounts to 2 gm.
These biscuits have a Medium Glycaemic Index and Low Glycaemic Load, making them the perfect option for diabetic people who want to maintain healthy blood sugar levels in the desired range.
To keep blood sugar levels within the recommended range, diabetics are advised to consume a minimum of 4 Taste Good Karela biscuits daily (2 for breakfast and 2 for supper).
Trigotab fenugreek seed extract powder tablets:
Trigonelline, an improved active component in Trigotab, is an upgraded fenugreek extract.
It is a patented BAAS technology that helps in maintaining blood insulin levels and lowers high blood sugar levels.
The tablet is considered safe for diabetic patients to use as an adjuvant but seek medical advice prior to using it with any medication.
It sustainably controls your glucose levels, manages diabetes, and reduces your pill burden.
Our unique and healthy combo comes at a pocket-friendly price and ensures your health, taste, and nutrition hand in hand. Add this perfect combo to your routine for healthy living.
Specification
Manufacturer : Azista Industries Pvt. Ltd.
Taste Good Karela Biscuits : Biking Food Products Pvt. Ltd. 1-8-581, RTC 'X' Road, Industrial Area, Hyderabad-500020.
Trigotab : AIIDC Industrial Growth Center, changsari, Niz Sindurighopa, Sila Sindurighopa, Kamrup, Assam.
Country of Origin : India.
Shelf Life :
Taste Good Karela Biscuits : 9 Months
Trigotab : 24 Months.