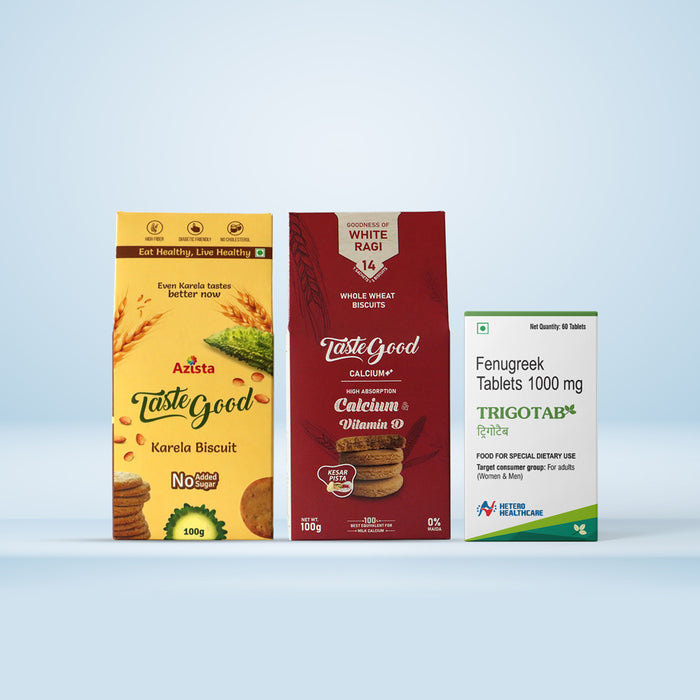 TG Trigotab Combo - Tastegood Karela Pack of 4 , TasteGood Calcium Biscuits Pack of 4 and Trigotab Pack of 1
Out of Stock
Original price
Rs. 724.00
Original price
Rs. 724.00
-
Original price
Rs. 724.00
Original price
Rs. 724.00
(Inclusive of all taxes)
Estimated Shipping Widget will be displayed here! (with custom color)
Our Tastegood combo pack helps control your blood sugar levels as you satisfy your hunger cravings and make up for your calcium deficiency.
Choose savoury and nutritious snacks for a better lifestyle.
Package information
TG Trigotab Combo - Tastegood Karela Pack of 4 , TasteGood Calcium Biscuits Pack of 4 and Trigotab Pack of 1.

Our product combo guarantees:
Balanced blood sugar levels
Restoration of bone health
Formation of fresh blood cells
Enhanced insulin secretion
Controlled glucose fluctuations
Tastegood Karela biscuits:
The Karela biscuit has evolved into the Tastegood Karela biscuits. Because it is no longer bitter, it appeals to those who dislike Karela.
The biscuits are 100% healthy, have no trans-fat and zero cholesterol, with medium Glycaemic Index and low Glycaemic Load according to clinical research.
It serves as the perfect on-the-go healthy snack for everybody including diabetics and helps regulate blood sugar levels in the desired range. These nutritious biscuits lower harmful cholesterol and help with weight management.

Tastegood Calcium biscuits:
Calcium serves several essential purposes, including maintaining the strength of bones and teeth and assisting in their structural regulation.
Tastes good Calcium++ biscuits contain White Ragi, an abundant source of calcium and dietary fibre that keeps your family active and healthy.
It is a known truth that only 50% of the calcium intake is absorbed by the body, and vitamin D oversees controlling calcium absorption. As a result, low vitamin D levels will further reduce calcium levels.
To balance your body with adequate doses of calcium and vitamin D, we advise you to choose Taste Good Calcium++ Biscuits.
Trigotab fenugreek seed extract powder tablets:
Trigotab is a derivative of isolated fenugreek extract with Trigonelline as its active ingredient.
It is a clinically proven anti-hyperglycaemic medication that enhances the body's insulin secretion and is appropriate for people of all age groups.
The benefits of fenugreek in tablet form are provided through a fusion of ancient tradition and modern technology. It is safe for use by diabetic patients who use the pill as an adjuvant.
These unique and nutritious products are healthy, cholesterol, and trans-fat free. It comes at an affordable price.
This combo assists you in managing your sugar levels, and calcium levels.
What are you waiting for? Grab your combo today!
Specification
Manufacturer : Azista Industries Pvt. Ltd
Manufacturer Address :
Taste Good Karela Biscuits, Taste Good Calcium Biscuits : Biking Food Products Pvt. Ltd. 1-8-581, RTC 'X' Road, Industrial Area, Hyderabad-500020.
Trigotab : AIIDC Industrial Growth Center, changsari, Niz Sindurighopa, Sila Sindurighopa, Kamrup, Assam.
Country of Origin: India
Shelf Life :
Taste Good Karela Biscuits, Taste Good Calcium Biscuits : 9 Months
Trigotab : 24 Months