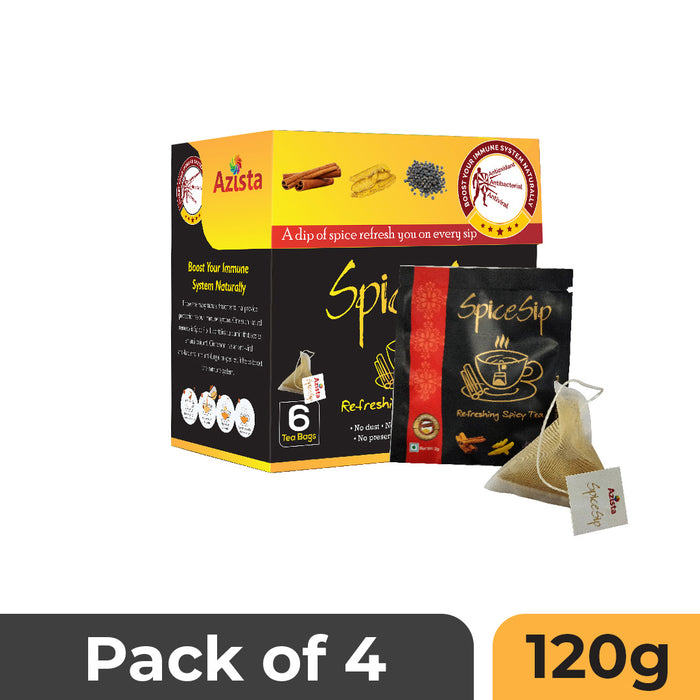 Spice Sip - Immunity Boosting Tea
Out of Stock
Original price
Rs. 180.00
Original price
Rs. 180.00
-
Original price
Rs. 405.00
Original price
Rs. 180.00
(Inclusive of all taxes)
Estimated Shipping Widget will be displayed here! (with custom color)
Boost Your Immune System Naturally
Spice sip, unlike modern medicines, is the combination of our traditional components with the convenience of technology.
It is a combination of a bunch of natural spices and provides harmony and balance to your health. It keeps you away from mild infections strengthening the immune system, in turn, making you capable of fighting the infections.
The present era completely relies on readymade treatments and medicines even for mild colds or any weakness in the body. A cup of Spice Sip every day is the best medicine for them that boosts the immune system and health.
Note - We do premium packaging to lock the freshness that gives an elevated taste to our customers.
Pack Order Details :
M.R.P of 1 Box = 45 INR
1 Box = 6 Tea Bags
Pack of 4 box = 24 Tea Bags
Pack of 6 box = 36 Tea Bags
Pack of 9 box = 54 Tea Bags
Spice Sip box weighs = 12g ( 2g x 6 packs )
Spice Sip isn't just about taste, it's about wellness. Enjoy the rich flavors while knowing that you're nourishing your body from within.
Azista Industries Pvt Ltd is the manufacturer and distributor of the product globally. We manufacture it through a specific process as per the standards as quality is our priority and pack it hygienically.
Highlights
Spice sip is identified as a blend of tradition with the convenience of technology.
It acts as the best tea to boost the immune system.
It signifies the glory of our tradition bringing back our culture.
The product is Caffeine-free, Dust-free, and Chemical-free.
It is an anti-fungal, and anti-bacterial product giving a healthy output.
A cup of spice sip tea every day is healthy for the immune system as it has a powerful anti-inflammatory effect on your body.
These immunity-boosting tea bags endorses gut health.
It has a naturally sweet flavor that makes the tea taste delicious.
Ingredients
Turmeric - Boosts immune function.
Black Pepper – Improve blood sugar control, anti-inflammatory properties.
Cinnamon - Improves cardiovascular health.
Benefits
The unique quality of Spice Sip is it is a natural immunity booster.
Does not fluctuate the sugar levels so it can be used by diabetic people.
Keeps you strong and healthy from inside.
The product keeps you away from infections like cold, flu, etc.
It is a perfect blend of taste, health, and tradition.
It purifies your blood.
How to Use
Spice sip comes in small sachets in the form of dips.
Take a glass of hot water.
Dip the Spice Sip dips in the hot water.
Let it be dipped for a while and once the essence of the ingredients is squeezed into the water drink it.
Drink it hot for better results.
Once cup of Spice Sip every day for a strong immune and healthy life!
Caution /Warnings
Pregnant woman or breast-feeding mothers should refrain.
Specifications
Manufacturer: Azista Industries Pvt. Ltd.
Manufacturer Address : D.No. 12-6-21/1/1, 1st floor, Kukatpally, "Y" junction, Moosapet, Balanagar, Medchalmalkajgiri, Hyderabad.
Country of Origin : India
Shelf Life : 18 Months