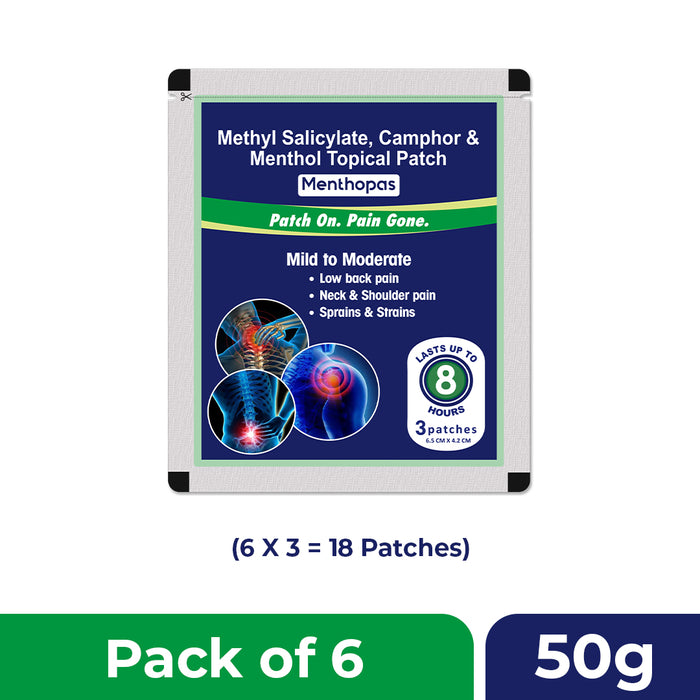 Menthopas - Topical Pain Relief Patches
Save up to

18

%
Save

10

%
Original price
Rs. 294.00
Original price
Rs. 294.00
-
Original price
Rs. 1,176.00
Original price
Rs. 294.00
(Inclusive of all taxes)
Estimated Shipping Widget will be displayed here! (with custom color)
Patch on... Pain Gone...
Menthopas is a non-medicated Topical Pain Relief Patch, provides relief from mild to moderate musculoskeletal pains. These patches are thin and skin adhesive with no side effects. Each patch can be applied for up to 8 hours in a day, gives you a temporary to permanent pain relief depending on the root cause.
Menthopas Pain Relief Patch acts as a local anesthetic and analgesic, improves the localized blood flow and thereby giving effective pain relief with no side effects.
Each pack of Menthopas Contains 3 Patches. Regular usage of these pain relief patch products works effective from mild to moderate acute or chronic pains.
Menthopas Pain Relief Patches provides effective pain relief & muscle relaxation in a non-medicated, tablet-free format. These patches are more effective than gels, oils and sprays as they are easy to carry and convenient to ease the aches and pains during traveling and workouts.
Non-messy & Non-greasy. Easily applied under clothing without any staining. Water Proof. Easy to carry & easy to use at any time. One-time use. Not Re-applied.
These patches areeffective in reducing mild to moderate Musculoskeletal Acute or Chronic Pains – Sprains, Strains, Lower Back Stiffness, Neck, Shoulder, Knee, Leg & Heel Cramps, Ankle & Foot, Arithritis, Elbow Pains, Inflammation and Swelling, Stomach & Menstrual Period Cramps.
Note - We do premium packaging to our product so that its properties would last long & benefical to applicant.
Pack Order Details :
M.R.P of 1 Menthopas Pain Relief Patch = 49 INR
Weight of Menthopas Pain Relief Patch = 30g
1 menthopas pack = 3 patches
Pack of 6 = 18 pcs
Pack of 12= 36 pcs
Pack of 16 = 48 pcs
Pack of 24 = 72 pcs
Azista Industries Pvt Ltd is the manufacturer and distributor of the product globally. We manufacture it through a specific process as per the standards as quality is our priority and pack it hygienically.
Highlights
Menthopas patch is the best remedy for you! It is a tablet-free pain relief patch that works like magic and treats your mild to moderate low back pain, neck, shoulder pain, strains, and sprains.
It is a tablet-free non-medicated topical pain relief patch.
The patch is self-adhesive and designed specifically for the tropical conditions of India.
These patches are effective in reducing mild to moderate Musculoskeletal Acute or Chronic Pains – Sprains, Strains, Lower Back Stiffness, Neck, Shoulder, Knee, Leg & Heel Cramps, Ankle & Foot, Arithritis, Elbow Pains, Inflammation and Swelling, Stomach & Menstrual Period Cramps.
Menthopas – The Pain Relief Patch has menthol as its major ingredient that subsides swelling, pain, and gives long-lasting relief.
Treatment: It soothes musculoskeletal pains, ligamentous strains, tendonitis, and simple backaches.
The patch works like magic and quickly relieves the site of application of the painful area.
Menthopas pain relief patch is viscous and made of three layers:
Backing layer (Top layer)
It is the top layer that prevents the drug from leaking out and preserves the medical values of the patch.
Adhesive layer:
It has PSA that aids the patch cohere the skin with slight finger pressure.
Holds and relieves the pressure.
Release liner
A transparent layer that protects the drugs in the muscle pain relief patch from being contaminated due to the environment. These topical pain-relief patches ease the lives of people with muscle fatigue, strains, arthritis, sprains, stiff shoulders, normal backache, neck, and shoulder pains and do not have an NSAID drug.
The efficacy of the menthol pain relief patch is clinically proved. The testimonials are given by our customers practically state their effectiveness.
To experience the magic of the patch, wear the menthol patch uninterruptedly for eight hours. If you remove the menthol pain relief patch eight hours after application, it loses its medical value.
Ingredients
Methyl Salicylate – Relief of pain in muscles, joints & tendons.
L-Menthol – Cools skin and then warm.
Camphor – Helps to relieve itching.
Tocopherol Acetate – Anti-oxidant properties.
Benefits
The patch is used to treat people with moderate, acute aches.
These patches work effectively on musculoskeletal pains, ligament strains, simple backaches, tendonitis, diabetic and peripheral neuropathies, or post-herpetic neuralgia.
It is obvious that people who sit for long hours and do intense gym sessions get back pain and muscle soreness frequently. In such cases, they can use these pain relief patches to get relieved from pain and be ever ready for a fresh start.
How to Use
Before you use the patch, wash, and dry your hands before you open the Menthopas – The Topical Pain Relief Patch.
Tear to open the pack and remove the pain relief patch.
Pull the transparent release film to expose the viscous area of the patch and apply the patch in the clean and dried site of application.
Fasten the viscous surface of the patch on the affected area and pull off the patch completely. Gently press on the corners of the patch to occupy the affected area and then begins the healing process.
Caution / Warnings
Who should use it?
Children 12 years and above can use the patch. However, parents should seek advice from pediatricians before applying the topical pain relief patch to their children.
How to remove?
Deluge the menthol patch with plenty of water or saline and gently peel it off.
Do not remove or move the patch before eight hours of application for effective results.
Specifications
Manufacturer: Azista Industries Pvt. Ltd
Manufacturer Address : AIIDC Industrial Growth Center, changsari, Niz Sindurighopa, Sila Sindurighopa, Kamrup, Assam.
Country of Origin : India
Shelf Life : 24 Months