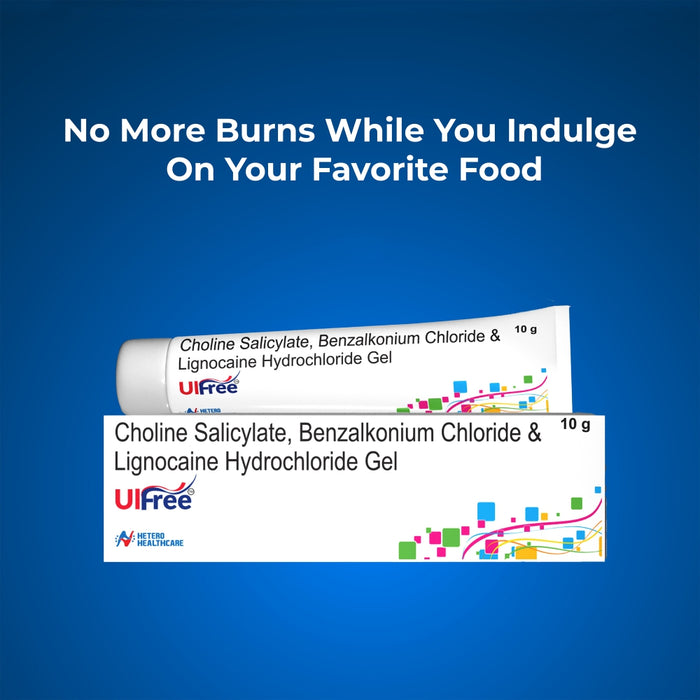 UlFree Mouth Ulcer Pain Relief Gel
Save up to

25

%
Save

15

%
Original price
Rs. 240.00
Original price
Rs. 240.00
-
Original price
Rs. 720.00
Original price
Rs. 240.00
(Inclusive of all taxes)
Estimated Shipping Widget will be displayed here! (with custom color)
ULFREE offers Triple-A Benefits. Lignocaine Hydrochloride acts as a local anesthetic. Choline Salicylate decreases inflammation & swelling around mouth ulcers. Benzalkonium Chloride acts as an antibacterial. Its pleasant taste makes it score above the rest anti-ulcerants in the market.
Highlights
ULFREE Gel used in Mouth Ulcers, Ulcers on Tongue, Ulcers on Palate, Ulcers on Inner Side of cheeks, Ulcer on gums & Pain due to dentures.
Shelf life is for 2 years.
Ingredients
Lignocaine Hydrochloride 2 % + Choline Salicylate 8.7 % + Benzalkonium Chloride 0.01 %
Diclofenac Diethylamine 1.16% w/w
Methyl Salicylate 10% w/w
Capsaicin – 0.025% w/w
Menthol – 5.0% w/w
Linseed oil – 3.0%w/w
Uses
This Combination is used in Mouth Ulcers, Ulcers on the Tongue, Ulcers on the Palate, Ulcers on the Inner Side of the cheeks, Ulcers on gums & Pain due to dentures.
Specification
Manufacturer : Azista Industries Pvt. Ltd.
Manufacturer Address : D.No. 12-6-21/1/1, 1st floor, Kukatpally, "Y" junction, Moosapet, Balanagar, Medchalmalkajgiri, Hyderabad.
Country of Origin : India.
Shelf Life : 24 Months.