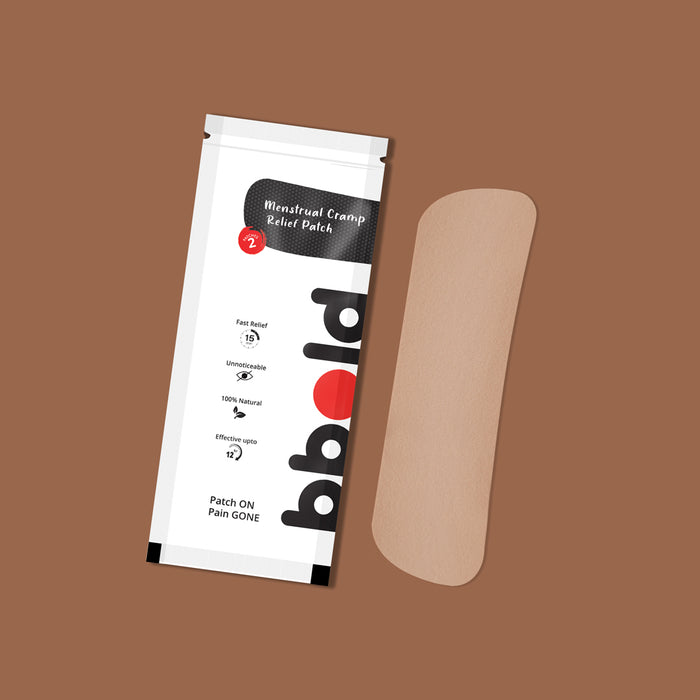 bbold Menstrual Cramp Relief Patch
Save

15

%
Save

15

%
Original price
Rs. 240.00
Original price
Rs. 240.00
-
Original price
Rs. 240.00
Original price
Rs. 240.00
(Inclusive of all taxes)
Estimated Shipping Widget will be displayed here! (with custom color)
bbold Menstrual Cramp Relief Patch is designed to give an instant and long-lasting relief from period cramps. The patch gives relief to the abdomen, back, and legs.
The patch is made of 100% natural ingredients that soothe your cramps naturally with zero side effects. bbold menstrual cramp relief patch is worn on the abdomen to relieve menstrual cramps. It soothes your cramps for up to 12 hours by suppressing uterine contractions that cause cramps. It shows the fast relief effectiveness of ingredients to the skin within 15 mins of application.
Note - We do premium packaging to our product so that its properties would last long & benefical to applicant.
Pack Order Details :
M.R.P of 1 Pack = 120 INR
Weight of 1 patch pack = 30g
1 Pack = 2 pcs of cramp relief patch
Pack of 2 = 4 pcs
Azista Industries Pvt Ltd is the manufacturer and distributor of the product globally. We manufacture it through a specific process as per the standards as quality is our priority and pack it hygienically.
Highlights
bbold menstrual cramp relief patch offers immediate and enduring relief from period cramps affecting the abdomen, back, and legs.
Made from natural ingredients, it provides natural cramp relief without any side effects.
Wear it on your abdomen for up to 12 hours to soothe cramps.
Shows the fast relief effectiveness within 15 mins.
Ingredients
Boswella Serrata Extract - It helps reduce inflammation and works as an effective natural painkiller.
Menthol - Peppermint reduces the severity and duration of menstrual cramps by slowing down the release of prostaglandin, the main compound that causes cramps. It provides a cooling effect to the body.
Eucalyptus Oil - Increases the flow of blood and oxygen and relaxes tight, tense muscles curing pain, and acts as an anti-inflammatory agent.
Benefits
The patch is thin and easy to apply.
It has an adhesive that sticks firmly to the body and is unnoticeable. It doesn't leave any strains or marks on your clothes.
The exciting part is you can wear it for social gatherings or relax in your office routine and have a pain-free day!
Shows the fast relief effectiveness within 15 mins & lasts upto 12 hours.
How to Use
Take out the strip from the cover.
Remove the release liner from the patch.
Place it uniformly over your lower back or lower abdomen.
Dispose the patch in the bin after you use it.
Note:
If you are applying the patch on the dry skin area, stick the patch evenly.
If the patch is stuck to the body hair area, apply warm water for smooth removal and pull it slowly.
Caution / Warnings:
The patch is made for single use only.
It is for external use only.
Do not use the patch on sensitive skin or the face.
Do a patch test first, if you sense any allergic reaction or irritation, stop using the patch.
Keep in cool, dark & dry place.
Do not use the patch on open wounds or irritated skin.
Note:- Please go through the ingredients listed, if you are allergic to any of the ingredients stop using the patch.
Specifications
Manufacturer : Azista Industries Pvt. Ltd.
Manufacturer Address : AIIDC Industrial Growth Center, changsari, Niz Sindurighopa, Sila Sindurighopa, Kamrup, Assam.
Country of Origin : India.
Shelf Life : 36 Months.