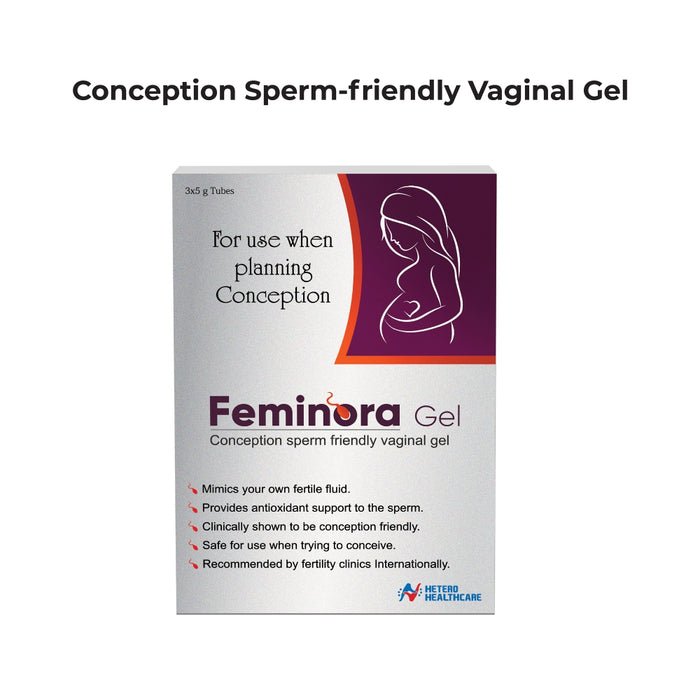 Feminora Vaginal Lubricant Gel
Save

15

%
Save

15

%
Original price
Rs. 325.00
Original price
Rs. 325.00
-
Original price
Rs. 325.00
Original price
Rs. 325.00
(Inclusive of all taxes)
Estimated Shipping Widget will be displayed here! (with custom color)
Feminora Gel is personal lubricating Conception friendly Vaginal Gel designed specifically for couples trying to concieve.
The stress of trying to conceive can increase vaginal dryness during intimacy. The clinical studies have shown that the other lubricants ( even if labeled "non-spermicidal" ) can damage sperm & should be avoided when you are ready to become pregnant.
Our Feminora gel is a sperm-friendly and personal lubricating conception-friendly gel. It supplements the body's natural fertile fluids to meet the concentration of the body's own fertile fluids, which relieves the friction and enhance sexual activity and thereby increasing the chances of conception.
The gel has natural polysaccharides that guard the sperm against oxidative stress and henceforth increase the chances of conception.
Backed by clinical testing and condom compatibility, our vaginal dryness lubricant gel ensures safety, providing a reliable solution.
Conception friendly Feminora Gel relieves vaginal dryness without harming sperm & is less irritating than other lubricants. Feminora Gel isotnoic, formula with arabinogalactan is balanced to match fertile fluids & not harm sperm with antioxidant support.
Note - We do premium packaging to our product so that its properties would last long & benefical to applicant.
Pack Order Details :
M.R.P of 1 Feminora Gel = 325 INR
Weight of 1 Feminora Gel = 20g

1 pack consists of 3 x 5 g tubes of Feminora Gel
Highlights
The Feminora gel is a vaginal lubricant to prevent vaginal dryness in the reproductive age group.
This sperm-friendly gel incites sperm's motility.
The body's natural fertility fluids are supplemented by the product to match the body's own fertile fluids
It enhances sexual activity and aids in relieving friction.
Increases the chances of conception.
It is clinically tested and condom compatible.
It is not a contraceptive.
Ingredients
Arabinogalactan - Moisturizing properties.
Hydroxy Ethyl Cellulose - Fertility-friendly content.
Benefits
Feminora gel treats vaginal dryness.
Increases the chances of conception.
It is a sperm friendly gel.
The body's natural fertility fluids are supplemented by the product to match the body's own fertile fluids
How to Use
Twist the lower end of the tube so that it can breaks.
Insert the neck of the tube into the vagina.
Squeeze out the contents by pressing the 2-3 times.
Remove the tube and discard it.
It is best to use this gel before 1 hour of sexual intercourse. It is common to notice excessive gel come out of the vagina.
Wipe the excessive gel.
Caution /Warnings
For Conception:
One tube daily intercourse during the fertile window.
For Vaginal Dryness:
1 tube daily or as directed by your doctor.
Precautions:
The gel is for single use only.
Do not freeze it.
Protect the tube from heat (daily sunlight).
Follow the instruction written in the label strictly.
Store the medicine in a cool and dark place below 30°C.
If irritation occurs, discontinue use immediately & it it presist, consult a physician.
Specifications
Manufacturer: Aurochem Labratories (I) Pvt. Ltd
Manufacturer Address : Palghar Taluka Ind. Co-op, Estate Ltd, Palghar - 401 404, Maharashtra.
Country of Origin : India
Shelf Life : 24 Months