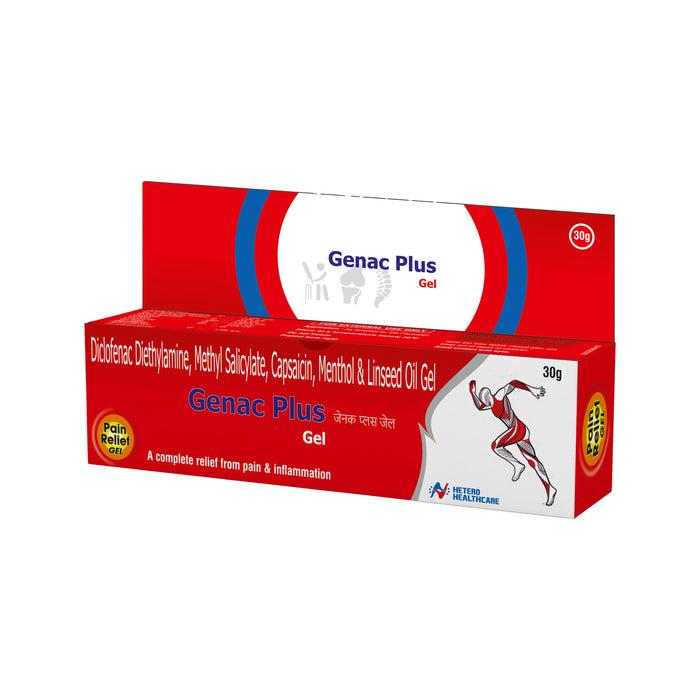 Genac Plus Fast Pain Relief Gel
Save up to

15

%
Save

10

%
Original price
Rs. 270.00
Original price
Rs. 270.00
-
Original price
Rs. 450.00
Original price
Rs. 270.00
(Inclusive of all taxes)
Estimated Shipping Widget will be displayed here! (with custom color)
Say NO ….......... to SUFFERING
Discover the power of relief with our advanced Pain Relief Gel. Specially formulated to ease discomfort and provide targeted relief, this gel is your go-to solution for soothing aches and pains. Whether it's muscle soreness, joint discomfort, or minor injuries, our Pain Relief Gel is designed to provide effective, fast-acting relief.(please don't apply on open wounds, cuts, burns, etc.
Genac Plus Fast Pain Relief Gel with our advanced gel formula, scientifically designed to ease aches  Joint Pain, Lower back pain, Sports injury, Cervical pain, Arthritis, Strain & Sprain.
Apply it to the affected area & massage for a minute.
Note - We do premium packaging to our product so that its properties would last long & benefical to applicant.
Pack Order Details :
M.R.P of 1 Genac Plus Fast Pain Relief Gel = 90 INR
Weight of Genac Plus Fast Pain Relief Gel = 30g
Pack of 3 = 3pcs
Pack of 4 = 4 pcs
Pack of 5 = 5 pcs
Azista Industries Pvt Ltd is the manufacturer and distributor of the product globally. We manufacture it through a specific process as per the standards as quality is our priority and pack it hygienically.
Experience the difference our Pain Relief Gel brings to your daily comfort. Embrace a life with less discomfort and more freedom to move and enjoy your activities.
Highlights
Experience quick relief as our gel gets to work within moments of application.
Our unique formula is crafted to address specific areas of discomfort, providing focused relief.
Enjoy the benefits of relief without the sticky or greasy residue that some gels leave behind.
Feel the soothing sensation as our gel absorbs quickly, leaving behind a refreshing cooling effect.
The easy-to-use gel format allows for effortless application, making it ideal for use anytime, anywhere.
From post-workout soreness to everyday discomfort, our Pain Relief Gel is your versatile companion.
Crafted with carefully selected ingredients known for their pain-relieving properties, providing a holistic solution.
Ingredients
Diclofenac – Treat pain.
Linseed Oil - Reduce inflammation.
Menthol – Cools skin and then warm.
Methyl Salicylate – Relief minor pain.
Capsaicin – Help in relief of minor pain.
Benefits
Benefit from the anti-inflammatory properties that help alleviate swelling and discomfort, promoting faster healing.
Enjoy a calming, refreshing sensation upon application.
Ingredients are meticulously chosen for effective, spot-on care.
Conveniently use it anywhere, anytime for quick comfort.
Our gel promotes overall well-being through holistic relief.
How to Use
Begin with clean and dry skin in the affected area.
Gently squeeze a small amount of gel onto your fingertips.
Rub the gel in a circular motion onto the discomfort area until absorbed.
After application, wash hands thoroughly to avoid any accidental contact.
Allow the gel to dry before covering the area with clothing or bandages.
Caution / Warnings
Keep the gel tightly closed and stored in a cool, dry place.
This gel is meant for external use; do not ingest or apply to open wounds.
Keep the gel away from eyes, broken skin, or mucous membranes.
Specifications
Manufacturer: Hetero Healthcare Limited
Manufacturer Address : AIIDC Industrial Growth Center, changsari, Niz Sindurighopa, Sila Sindurighopa, Kamrup, Assam.
Country of Origin : India
Shelf Life : 24 Months