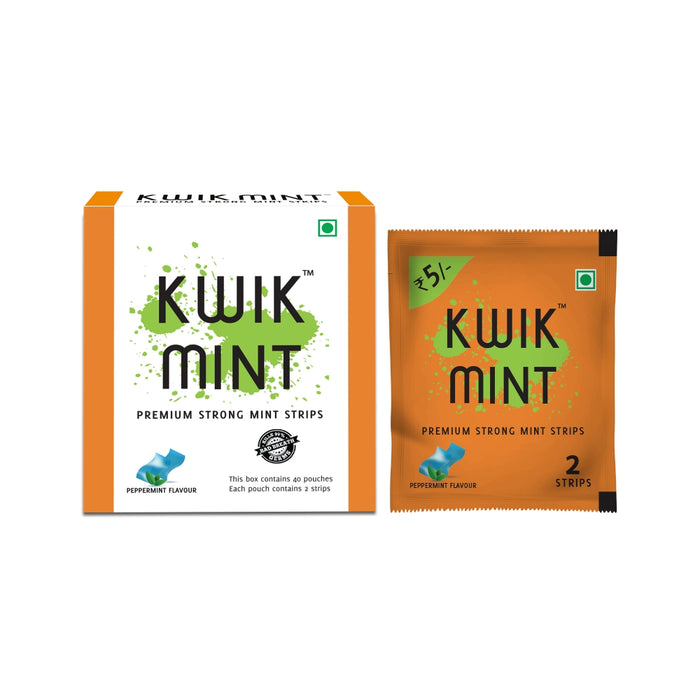 Kwik Mint Mouth Freshener Strips
Save up to

30

%
Save

15

%
Original price
Rs. 400.00
Original price
Rs. 200.00
-
Original price
Rs. 1,000.00
Original price
Rs. 400.00
(Inclusive of all taxes)
Estimated Shipping Widget will be displayed here! (with custom color)
It is KWIK, it is MINT for bad breath.
KWIK MINT - PREMIUM breath freshener is a blast of high menthol and peppermint concentrate.
A few times our mouth odor smells foul for obvious reasons like dental ill health, due to smoking, etc., which drowns us in embarrassment and disgraces our presence in the crowds.
To avoid embarrassment Kwik Mint - Premium must indeed be the choice that instantly refreshes your breath and instils the lost confidence in you.
The freshness of the mint strips will fetch you fresh thoughts, refresh your day, fresh your breath, confident living, and gives you the experience of the newness of the mint.
Kwik Mint strips improve digestion. It is a soothing herb that aids the stomach from various maladies.
Kwik Mint strip is just a flavor but has numerous beneficial factors. It is clinically proven and suggested by doctors for everybody including diabetic patients to consume.
Note - We do premium packaging to lock the freshness that gives an elevated taste to our customers.
Pack Order Details :
M.R.P of 1 Kwik Mint Premium Strong strips = 200 INR
1 Pack = 44 Sachets = 88 Strips
1 sachet = 2 strips
Pack of 2 = 88 Sachets = 176 strips
Pack of 3 = 132 Sachets = 264 strips
Pack of 4 = 176 Sachets = 352 strips
Pack of 5 = 220 Sachets = 440 strips
Net Weight : 50g (per unit)
One strip gives you a ton of freshness!!
Azista Industries Pvt Ltd is the manufacturer and distributor of the product globally. We manufacture it through a specific process as per the standards as quality is our priority and pack it hygienically.
Highlights
KWIK MINT is Sugar-free mouth freshening mint strips.
Lingering fresh effect on the tongue, brain, and eyes. It is mint for bad breath.
These mint strips mouth fresheners reduce stress, clears the throat, nostrils, cool the eyes, and freshen your breath.
Our motto is to address the instant fresh breath during the usage of mask, in offices, after meal or smoking or during any other activity etc.
It is nutritious, heals the congestion by shrinking the swollen membranes in the nose.
It is a dissolving mint paper strip that essentially kills 99% of germs that cause diseases and bad breath.
Gives oral, dental hygiene that boosts your confidence and that is why they are called best mints for bad breath.
Ingredients
KWIK MINT - PREMIUM has zero synthetic flavours.
Menthol - Antimicrobal - kills bacteria & stops their growth.
Peppermint - Combats bad breath & improves gut health.
Benefits
Kwik Mint is contrived with advanced mint technology - Dissolves within few seconds.
Kwik Mint instantly freshens the rancid mouth odor of people with smoking habits.
The Mouth freshening strips are your best oral companion that safeguards you orally round the clock.
These mint strips act as great appetizers and palate cleansers and have several advantages on the human body.
The product is handy used to rejuvenate yourself anytime and anywhere.
Kwik Mint is free from alocohol, no burning sensation nor rinse required for gaining fresh breath.
It is sugar-free, so even the diabetic people can also enjoy the strips to have fresh breath within a seconds.
Note - We do premium packaging to lock the freshness that gives an elevated taste to our customers. Once opened consume the whole pack immediately.
How to Use
Slit the sachet.
Place it on our tongue.
Experience the blast of freshness!!!
KWIK MINT is self-melting. Have it !! Feel it !!
Caution /Warnings
Once opened consume within 48 hours
CONTAINS ASPARTAME, NOT RECOMMENDED FOR PREGNANT & LACTATING WOMEN.
SAFE FOR ALL ABOVE 5 YEARS OF AGE.
Specifications
Manufacturer : Azista Industries Pvt. Ltd.
Manufacturer Address : RS.56B/1, Hubli Karwar Road, Chalamatti,Dharwad Dist, Karnataka-581204.
Country of Origin : India.
Shelf Life : 18 Months.