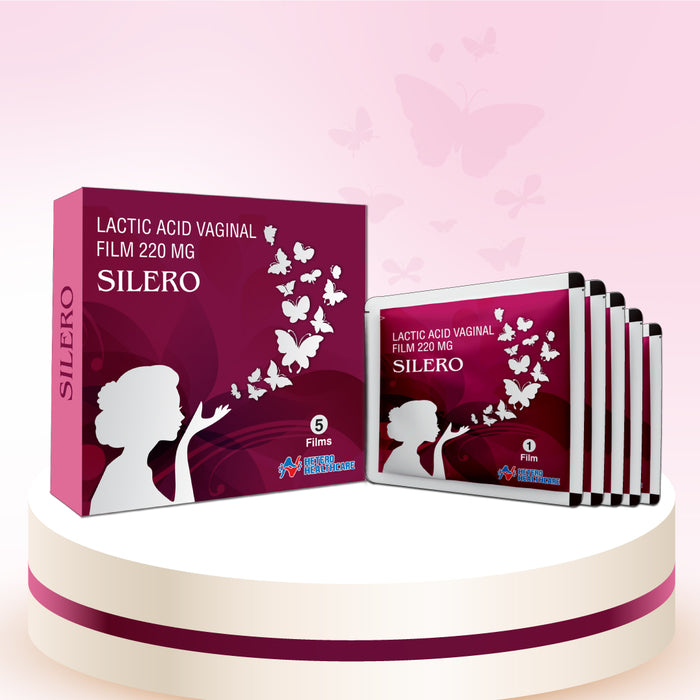 Silero Lactic Acid Vaginal Film
Save

15

%
Save

15

%
Original price
Rs. 200.00
Original price
Rs. 200.00
-
Original price
Rs. 200.00
Original price
Rs. 200.00
(Inclusive of all taxes)
Estimated Shipping Widget will be displayed here! (with custom color)
Most of the women experience vaginal issues & discomforts, and most of the time it's because the vaginal microbiota is out of balance.
Small fluctuations in the Vaginal Microbiota can impact the Vaginal Health significantly like itching, redness, swelling of vaginal area, abnormal discharge/odor etc.
For the first time in India , A revolutionary product introducing Silero - Lactic Acid Vaginal Film is conceptualized and developed with one goal:- To restore a healthy, stable balance naturally in the vagina's pH levels.
The film ensures faster & accurate drug delivery and longer adherence to the vaginal surface due to bio-adhesive polymers, and flexible film provides patient comfort.
Note - We do premium packaging to our product so that its properties would last long & benefical to applicant.
Pack Order Details :
M.R.P of 1 Silero per film = 10 INR
1 Silero box = 5 Silero films
Pack of 4 = 20 Silero films.
Highlights
Silero, an innovative Indian product, addresses common vaginal discomforts caused by microbiota imbalance.
Addresses common vaginal discomforts often caused by imbalances in the vaginal microbiota.
Helps alleviate issues like itching, redness, swelling of the vaginal area, abnormal discharge, and odor.
Designed to naturally restore a healthy and stable pH balance in the vagina.
Ensures faster and more accurate drug delivery.
The flexible film is designed with patient comfort in mind.
Ingredients
The product comes with:
Lactic Acid - Helps restore the vagina's natural pH level, which is slightly acidic (around 3.5 to 4.5).
Sodium hyaluronate - Promotes natural lubrication and moisturizes the vaginal area.
Benefits
It helps maintain healthy vaginal pH levels.
Prevents vaginal infections and odour.
Promotes natural lubrication.
Clinically tested and approved.
How to Use
Wash your hands with soap.
Make sure your hands are dry before using Lactic acid vaginal film.
Cut the three sides of the pouch using a clean scissors.
Remove the film from pouch & fold it twice to the middle.
Place the folded film over middle or index finger.
Get into a comfortable position, holding lactic acid vaginal film.
Place films with one swift movement deep in the vagina against the cervix.
Wash hands after insertion.
Caution / Warnings
For vaginal use only.
Not for rectal (anal) use.
Not for oral consumption.
This is not a contraceptive.
Ask your doctor before use if you are pregnant.
Stop using and contact your doctor if symptoms persist or worsen or if you are experiencing irritation or burning.
Store at room temperature below 30°C in dry and dark place
Specifications
Manufacturer : Hetero Healthcare Limited.
Manufacturer Address : AIIDC Industrial Growth Center, changsari, Niz Sindurighopa, Sila Sindurighopa, Kamrup, Assam.
Country of Origin : India
Shelf Life : 24 Months