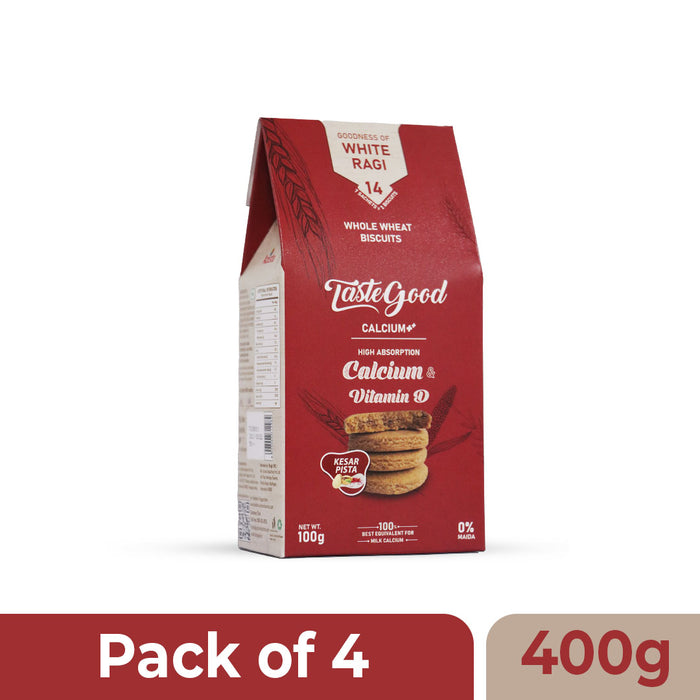 Taste Good Calcium and Vitamin D Biscuits
Save up to

30

%
Save

15

%
Original price
Rs. 236.00
Original price
Rs. 236.00
-
Original price
Rs. 1,180.00
Original price
Rs. 236.00
(Inclusive of all taxes)
Estimated Shipping Widget will be displayed here! (with custom color)
Are you taking sufficient calcium regularly? Is your body able to process enough calcium? No! Then try Our TasteGood Calcium++ Biscuits!
Calcium is the most effective mineral that strengthens the bones and teeth , maintains their structure and carries many other essential functions in the body.
TasteGood Calcium ++ Biscuits contains White Ragi , Ragi is a rich source of Calcium and Dietary Fiber that keeps your family active & healthy. However, reports say that only 50% of ingested calcium is absorbed, and Vitamin D regulates the calcium absorption in the body. Therefore, low vitamin D levels will further lower calcium levels in the body.
Calcium ++ is made with 0% maida and 100% best equivalent for milk calcuim.
We are proud to say they are Made in India, by an Indian Brand as these are the best biscuits for people looking for calcium needs and act as The Perfect mid-meal healthy snack suitable for all age groups
Note - We do premium packaging to lock the freshness that gives an elevated taste to our customers. Once opened consume the whole pack immediately.
Pack Order Details :
M.R.P of 1 box = 59 INR
1 box = 7 Packets , 1 Packet = 2 Biscuits
Pack of 4 box = 56 Biscuits
Pack of 8 box = 112 Biscuits
Pack of 16 box = 224 Biscuits
Pack of 20 box = 280 Biscuits
TasteGood Calcium ++ Biscuits Box Weight = 100g with 14 Healthy biscuits
We advise including TasteGood Calcium++ Biscuits as a part of your daily diet, as they can help you meet your daily Calcium and Vitamin D needs.
Azista Industries Pvt Ltd is the manufacturer and distributor of the product globally. We manufacture it through a specific process as per the standards as quality is our priority and pack it hygienically.
Highlights
Why Taste Good Calcium++ Biscuits?
Taste Good Calcium++ Biscuits is an innovative product that is a pack of health and a blend of traditional and modern methods to fulfill the needs.
The Biscuit is made with Indian super grains that are rich in Calcium and Vitamin D. Having sufficient vitamin D in the body enhances the absorption of calcium.
These energy boosters are recommended for regular consumption to balance the calcium levels in the body.
You will enjoy the taste of the biscuits as it has the added flavour of Kesar, Pista and Vanilla.
Regular intake of calcium is important for maintaining overall health and strong bones.
Biscuits are rich in Fiber , with 0% Maida and best equivalent for milk calcium.
Ingredients
White Ragi - Rich in high fiber & essential minerals.
Whole Wheat Flour - It helps reduce the risk of heart disease by lowering cholesterol levels and maintaining healthy blood pressure.
Other Ingredients –
other ingredients like micronutrients premix, edible oils, saturated fatty acids, etc. Amalgamation of these ingredients brings out an awesome product Taste Good Calcium++ Biscuits that has amazing health benefits, cost-effective, and handy as it not Made from MAIDA, A total Maida-Free product.
Benefits
Your body will receive the required amount of calcium in a tasty means.
Vitamin D present in the biscuits will help 100% of calcium gets absorbed by the body.
Regular consumption will improve your bone and teeth health.
These biscuits are a cost-effective and handy tempting snack for people of all ages.
How to Use
Have the TasteGood Calcium Biscuit, where 2 biscuit is equivalent to 200ml of milk.
2 biscuits = morning teatime + 2 biscuits = evening snack time.
It is perfectly acceptable for individuals without diabetes to consume healthy biscuits, as these biscuits are beneficial for everyone's well-being.
Specifications
Manufacturer : Azista Industries Pvt. Ltd.
Manufacturer Address : Biking Food Products Pvt. Ltd. 1-8-581, RTC 'X' Road, Industrial Area, Hyderabad-500020.
Country of Origin : India.
Shelf Life : 9 Months.