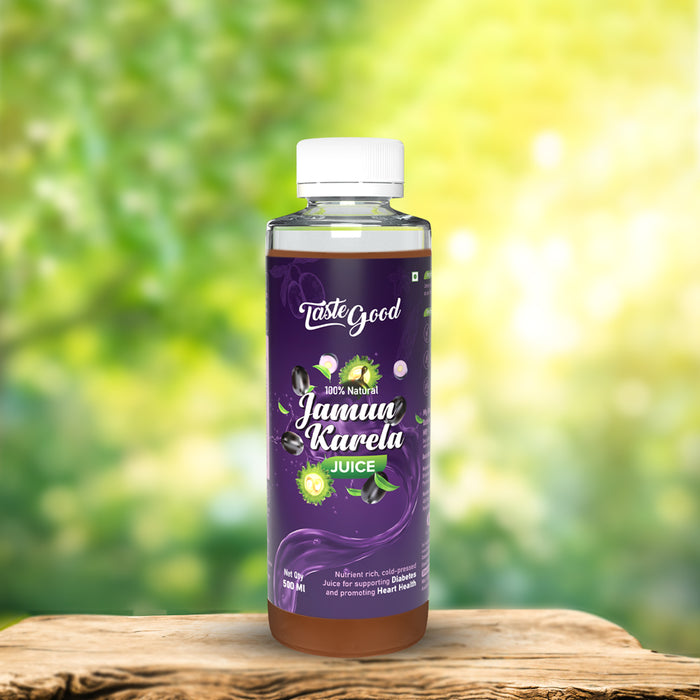 Tastegood Jamun Karela Juice
Save

15

%
Save

15

%
Original price
Rs. 250.00
Original price
Rs. 250.00
-
Original price
Rs. 250.00
Original price
Rs. 250.00
(Inclusive of all taxes)
Estimated Shipping Widget will be displayed here! (with custom color)
Enjoy a tasty way to stay healthy every day!
Introducing TasteGood Jamun Karela Juice, A revolutionary health drink to maintain your blood sugar levels. It is a delicious and nutritious blend to promote overall health and well-being from the farms of India.
This unique juice combines the goodness of Jamun (Black Plum) and Karela (Bitter Gourd), two powerful ingredients known for their numerous health benefits.
Each sip is packed with essential nutrients, offering a delicious way to nourish your body and maintain balanced well-being. Elevate your daily routine with a refreshing choice that cares for your health from within – a true blend of wellness and taste.
Note - We do premium packaging to lock the freshness that gives an elevated taste to our customers.
Pack Order Details :
M.R.P of 1 box = 250 INR
TasteGood Jamun Karela Juice Box Weight = 500ml

TasteGood Jamun Karela Juice a Nutrient rich, cold-pressed juice for supporting Diabetes & promoting Heart health.
Highlights
Did You Know?
Jamun & Karela are used in Ayurvedic medicine to regulate blood sugar and heart health. TasteGood Jamun Karela juice is a 100% natural containing compounds that enhance insulin secretion, stablize blood sugar levels, & protect against heart disease. Consult a healthcare professional before use.
TasteGood Jamun Karela Juice is created by selecting the finest Jamun and Karela fruits, guaranteeing a truly authentic and genuine taste experience.
Packed with essential vitamins, minerals, and antioxidants, this juice provides a wholesome dose of nutrition for your body.
We believe in offering only the best to our customers, which is why our juice contains no artificial flavors, colors, or preservatives.
TasteGood Jamun Karela Juice comes in a handy, leak-proof bottle, making it easy to carry and consume on the go.
Our juice is manufactured in a state-of-the-art facility, adhering to strict quality standards to ensure a premium product.
Ingredients
Jamun (Black Plum) Extract - Rich in antioxidants, Supports digestive health & Boosts immunity.
Karela (Bitter Gourd) Extract – Blood sugar regulation & Rich in vitamins and minerals.
Water
Citric Acid
Benefits
Blood Sugar Support:

Jamun and Karela are known to have properties that help regulate blood sugar levels, making this juice an excellent choice for individuals managing diabetes or seeking to maintain healthy blood sugar levels.

Promotes Heart Health:

Karela is known to help maintain healthy cholesterol levels, which is important for heart health. Jamun is rich in potassium, which can help to regulate blood pressure and encourage heart health. These two ingredients can help to promote a healthy heart and cardiovascular system.

Digestive Health:

The natural fiber content of Karela promotes healthy digestion, while Jamun aids in reducing digestive disorders, providing relief from common gastrointestinal issues.

Antioxidant Boost:

Loaded with antioxidants, TasteGood Jamun Karela Juice helps protect the body against oxidative stress and free radicals, promoting overall cellular health.

Weight Management:

Karela is often recommended for weight management due to its low-calorie and high-fiber properties, helping you feel fuller for longer and supporting your weight loss goals.

Immune Support:

The immune-boosting properties of Jamun and Karela help strengthen your body's natural defense mechanisms, keeping you protected against common illnesses and infections.
How to Use
Shake well before use.
Take 20ml - 30ml (2 tablespoons) of Tastegood Jamun Karela Juice with a glass of water.
Consume it once or twice daily, preferably on an empty stomach for optimal absorption. Refrigerate after opening and consume within 45 days.
Do not eat anything for the next 30 mins after consumption.
Caution /Warnings
Pregnant or nursing women, as well as individuals with known allergies to the listed ingredients, should avoid consuming this juice.
Consult your healthcare professional before adding Tastegood Jamun Karela Juice to your diet, especially if you have any underlying medical conditions or are taking medications.
This product is not intended to diagnose, treat, cure, or prevent any disease. It is a dietary supplement and should be used as part of a healthy lifestyle.
Keep out of reach of children.
Store in a cool, dry place away from direct sunlight.
Specifications
Manufacturer: Briovinegars
Manufacturer Address : Briovinegars , Khasra No. 251 , Qasampur Pyarewala Raipurrani, Panchkula , Haryana, 134208.
Country of Origin : India
Shelf Life : 12 Months